Are you aged 11-15 years and keen to start playing American Football now?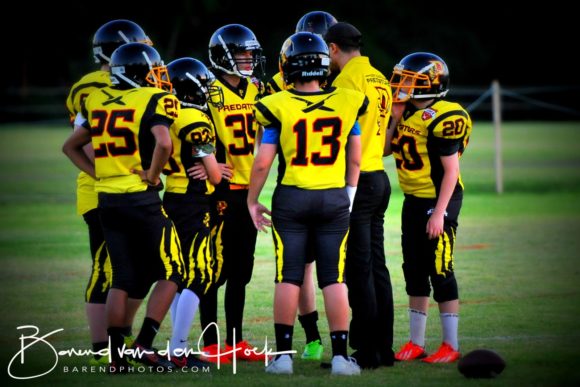 Due to an increased number of enquiries from parents with interested young players, South Eastern Predators (SEP) decided to introduce a Junior Varsity (JV) team in 2016. In its pilot year, the boys trained hard and played an exhibition match at the 2016 Junior Vic Bowl against a Pakenham Silverbacks team.
Junior varsity football at the Preds is all about participation, whilst being taught the basics of American football in a healthy, safe and non-threatening environment.
We want all children to have equal opportunity and respect, regardless of financial capabilities, location, skills etc.
We hope to foster a confidence and a sense of self-worth that will extend beyond gridiron. We also ultimately want to promote good sportsmanship and teamwork. SEP see the JV teams as the bright future of the club and the sport, as the players come to love the sport, develop their skills and abilities and stay with it through to Colts and ultimately Senior football.
In 2017, interest continued to grow and thanks to some very generous sponsors, SEP were able to have enough gear to support a much larger team. Each month, the SEP Raptors and SEP Pterodactyls have played against each other and as other clubs continue to be in the early stages of developing their JV teams, SEP will once again display their progress and success when their two JV teams play each other in the Junior Vic Bowl on Saturday 13 May at Ranger Field in Croydon.
Check out all the photos by Barend here: 
barendphotos.com/mens-gridiron-photos/2017-jv-pterodactyls-v-raptors-2-march-2017
Interested in getting involved?
If you're interested in playing, coaching or supporting, be sure to contact Gridiron Victoria