Get ready to rumble
Article by Damen Francis – Latrobe Valley Express
www.latrobevalleyexpress.com.au/news/local/sport/other/get-ready-to-rumble
AS the Pittsburgh Steelers and Green Bay Packers prepare for this weekend's Superbowl XLV, the Gippsland Gladiators are gearing up for their debut season in the Gridiron Victoria league.
Gippsland became the latest member club of Gridiron Victoria when its official application was voted in at a recent committee meeting.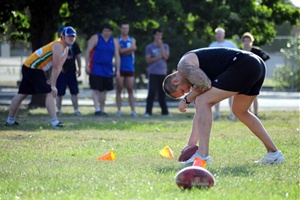 The new season doesn't start until May but preparations are already well underway, with 33 players from across Gippsland attending Saturday's training session in Sale.
Head coach Buck Buchanan has played and coached gridiron for about 18 years and he said the best thing was that people of all shapes and sizes could play.
"You've got really small guys that weigh 60-70 kilograms up to guys that are 170-180 kilos," Buchanan said.
"You've got guys who are incredibly fit and you have other guys that as far as running goes don't have nearly the same fitness."
"Playing on the offensive or defensive line they run in very short bursts, so it's more about explosive power and not running where you need plenty of stamina."
The Gladiators, which will be based in Sale or Traralgon, will be competing against teams from Geelong, Ballarat and seven teams based in Melbourne.
"We're desperately seeking a home ground, we're in negotiations here in Traralgon, we have been talking to the council in Sale, I'm not concerned too much with where, but we would like to have our home games in Gippsland, that would be good," Buchanan said.
In recent times gridiron has grown in popularity, due largely to increased television coverage on free-to-air television.
According to Buchanan there are a number of reasons people are attracted to the sport.
"The pads and everything are an appeal, some people are fascinated by the look and it's something different," he said.
"The violent nature of the game is a huge drawcard. We get guys who don't care where they play or what they do, they just want to go out and hit somebody and as long as they're doing it within the rules of the game, absolutely, go out and attack them."
Sixteen year-old Scott Stuckey, who was introduced to the game at high school by a teacher from Canada, said he enjoys `"the contact and the strategy within it."
Traralgon's Tim Nuguid said while it can take some time to understand the game, it was worth the effort.
"Down here this is the first league that they've got, so it's a good place to be when it starts up, a whole bunch of people just getting together to start as a social thing then it progresses on," Nuguid said.
"We're trying to encourage more people to come along even if they don't want to have a play just come and have a watch and see what it's about."
Players from the age of 16 are eligible to play, but those under the age of 18 require parental consent.
Training is held in Traralgon every Tuesday night from 6pm until 8pm at Catterick Crescent.
For more information phone Buck Buchanan on 51457119 or email at buckman2000@iprimus.com.au