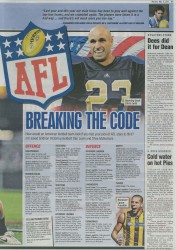 If you picked up a copy of MX in Melbourne on Monday afternoon and headed for the sports section, the sight of AFL star Chris Judd in American Football pads might have been a little confusing.
MX ran a feature article about Collingwood's US ruck import Shae McNamara and the transition from American Football to Aussie Rules.
The article also quoted GV president Dan Levin and the two worked through each position and which AFL star would be best suited to make the switch.
Click the image to the right for a larger view or you can download a PDF of the MX article on American Football here.