Best of luck to all the Victorian players representing Australia at the 2011 World Championship of American Football in Austria.
Update Game 3 – Germany defeats Australia 30-20
The Aussie boys bounced back from their first two losses to take the fight to the Germans, scoring three touchdowns to be within 3 points for most of the final quarter.
Buccaneers linebacker James McFadzean had 8 solo tackles and 1 assist to lead the defense, Crusaders receiver Tyson Garnham had 5 catches for 65 yards whilst Crusaders DB Andrew Yeung made an interception. Full stats can be downloaded here.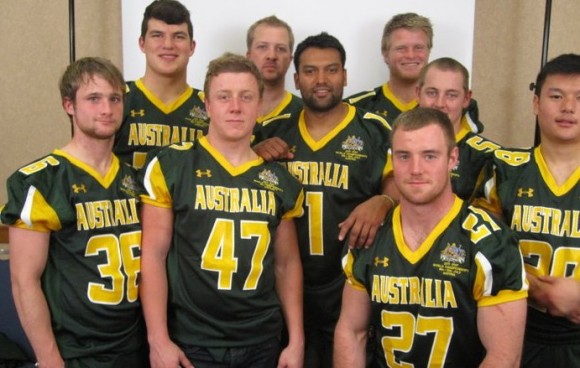 Victorian players representing Australia, from left: Tyson Garnham (Crusaders), Adam Gotsis (Warriors), Scott Wolfe (Warriors), Ben Gregson (Warriors), Steve Baker (Miners), John Tostevin (rear) (Warriors), James McFadzean (27) (Buccaneers), Layke Rossiello (middle) (Buccaneers) & Chewi Yeung (Crusaders)
Photo courtesy of www.warriorsgridiron.com
Update Game 2 – Mexico defeat Australia 65-0
Australia went up against a well polished Mexican team and were outgunned 65-0. Congratulations to Bay City Buccaneers linebacker James McFadzean who was named the Australian MVP!
Download the full match stats, play by play Mexico vs Australia 2011 World Championships
Update Game 1 – USA defeat Australia 61-0
Australia took on defending champions the United States on Friday 8th July. The Aussie Outback Team went down fighting, playing 'til the final whistle. All Victorian players did themselves proud!
Download full match stats, play by play USA vs Australia 2011 World Championships (pdf)
They also play Germany and Mexico later in the week.
Congratulations to the following Victorian's who are on the playing squad:
Steven Baker (Berwick Miners)
Tyson Garnham (Western Crusaders)
Adam Gotsis (Monash Warriors)
Ben Gregson (Monash Warriors)
James McFadzean (Bay City Buccaneers)
Layke Rossiello (Bay City Buccaneers)
Jon Tostovin (Monash Warriors)
Scott Wolfe (Monash Warriors)
Andrew Yeung (Western Crusaders)
The Australia vs USA game does not look like it will be streamed anywhere (if you find somewhere that is, please let us know!). Eurosport2 will likely stream the next two matches involving Australia for a small fee.
For more information, including streaming and television details check out the official website www.americanfootball2011.com/en/ or the International Federation of American Football website.