Looking for somewhere to watch the 2018 Super Bowl on Monday 5th February 2018 in Melbourne?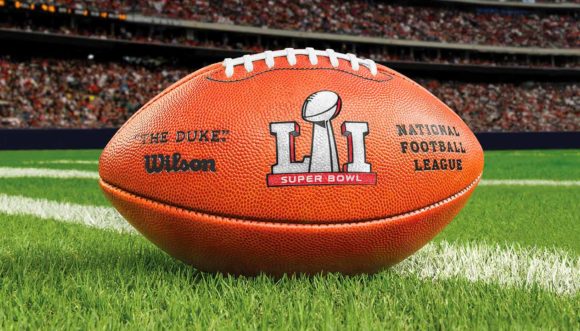 Got an event you want us to list?
Please complete this online form and let us know about your event and we will be glad to list it!
Super Bowl Parties Melbourne
Inner Melbourne Super Bowl Parties
Grosvenor Hotel, St Kilda
Watch the biggest game in America, the Super Bowl, live on the big
screens. Give yourself a long weekend and join us on Monday 6th February where
the $10 pints will be flowing alongside American style burgers created
just for the game. Doors open at 9am and entry is free.
Asian Beer Café – Melbourne Central, CBD
Showing the game on TVs throughout the venue – Open from 10:30am
$12 Coors Jugs 11am-2pm; $5 Pizzas; American Candied Maple Bacon Cheeseburger $15; Cheesy Fries $8; 12 Buffalo Wings $12; Nachos $10
The European Bier Café and AER Bar – CBD Melbourne
We're bringing Houston, Texas to you live on our huge screen at our Super Bowl event. Get in for food & drink specials for a Monday morning best spent with us.
Doors open at 9am with Food & Drinks specials! Book your table now: 03 9663 1222 or check out our website
Lanai Bar – CBD Melbourne
CQ Melbourne will be opening our restaurant Lanai Bar and Restaurant at 113 Queen St Melbourne early for the game with drink and food specials – check out their website
Hopscotch Beer Bar Southbank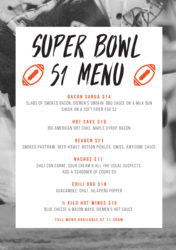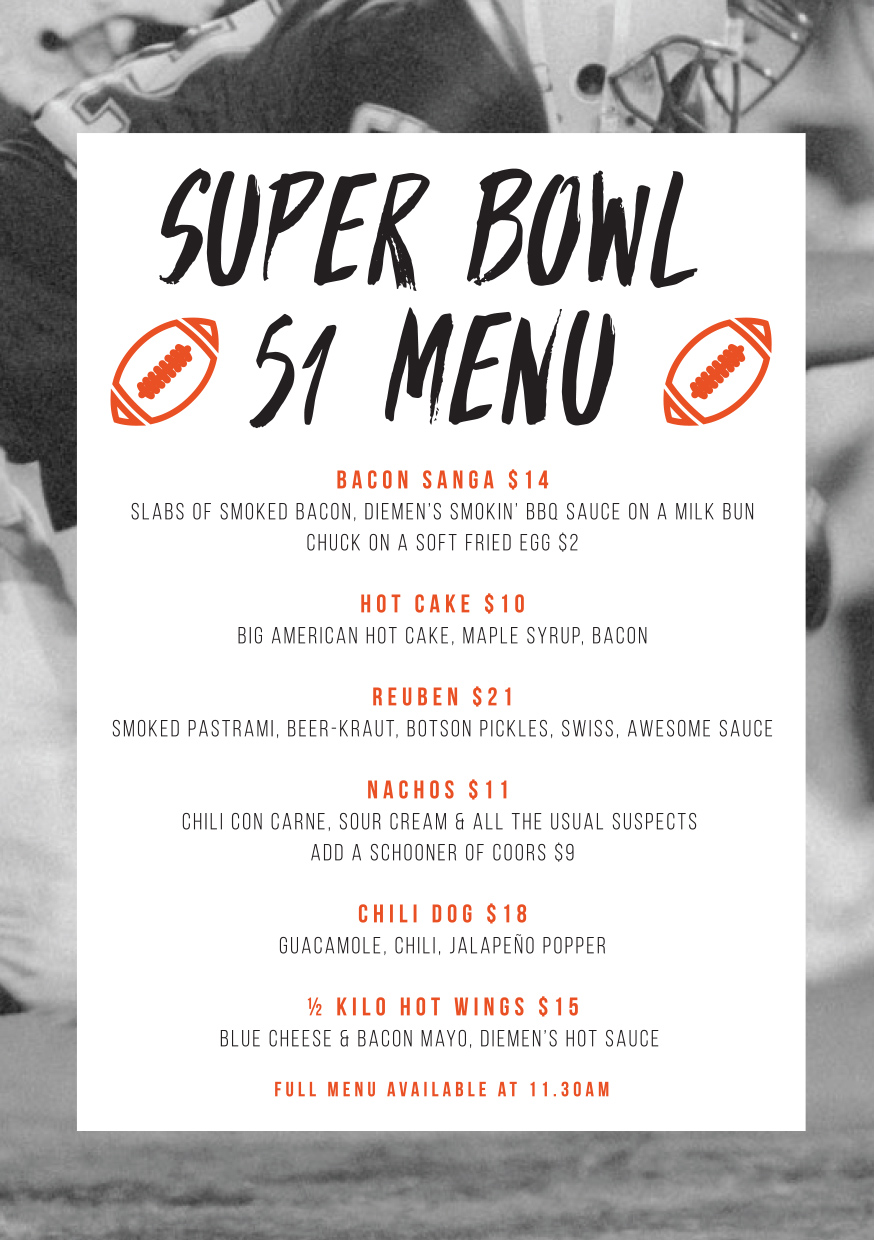 Doors open 7.30am – $20 Coors schooner & nachos – Chef's super bowl snacks & brekkie available from 7.30am and full menu (shown in the image) available from 11.30am
?RSVP NOW FOR YOUR CHANCE TO WIN OUR FRONT ROW VIP PACK FOR 4 including:
Front row seats for our 70" plasma TV on the riverside terrace; 4L mini keg of Coors; Nachos fit for a king with all the bits and bobs to share
Check out the Hopscotch Website for more
Prahran Hotel
Prahran Hotel in partnership with New Era presents Super Bowl 51 on
Monday February 6. Doors open at 9am with the game shown live on all
screens. Revel in our American food specials, $25 buckets of Bud and
$35 team platters (wings/chips/dogs & sliders).
Bookings advised. Call
(03 9529 2168 or email info@prahranhotel.com
Melbourne Center Lion Hotel
OPEN 9AM- LIVE on the Big Screen with Super Bowl meal and drinks specials.
TGI Friday's stores around Victoria!
Our good friends at TGI Friday's will be open early and showing the game on their countless big screens around ALL THEIR STORES listed below:
Book with your closest TGI's store:
( Southland , Jam Factory,  Melbourne Central , Forest Hill Chase , Southbank , Epping and Fountain Gate )
Terminus Hotel Richmond
Join us at the Terminus Hotel for all the Super Bowl action live and
loud with the game shown on all screens. Doors open at 10am. Take
advantage of our $7 Budweiser stubbies and fuel up with our Smoked
franks with fried onions, jalapeño salsa & cheese and our spiced
chicken wings with the Chef's special sauce.
Lawn Party at the Common Man South Wharf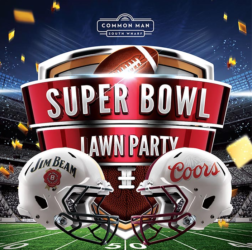 39 Dukes Walk, South Wharf – Watch all the super bowl action on our GIANT 7m X 4m Screen in our outdoor beer garden overlooking the Yarra river & city skyline.
Drink specials: Coors buckets of 4 $20, Jim beam buckets of 4 $30
Buy tickets and find out more on the website
Melbourne Public – South Wharf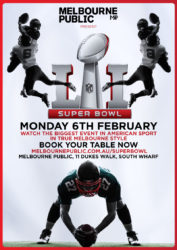 Our annual Super Bowl party returns to Melbourne Public – with multiple screens dedicated to bringing to you all of the live action from Texas.
Open from 8am, book a day off work and hang out with your buddies – playing our American-themed games & selecting from our American inspired menu.
VIP booths available, a free breakfast burger for those who book a reserved seat, Budweiser beer bucket specials & more.
Visit their Facebook event here
Nixon Hotel Docklands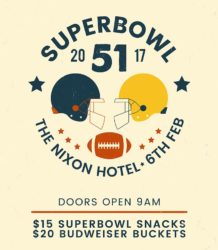 Watch SUPER BOWL 51 at The Nixon Hotel, Docklands Melbourne – Featuring $15 American Specials Menu and $20 Bucket of Budweiser
TAB betting facilities available to get yourself involved in the game. Check out our website for more details
Young & Jacksons Hotel Melbourne CBD
Book the day off work, grab ya mate, pull on your jersey, and head down to Young and Jackson. We will have all the usual 'merican beers, a specially designed menu (did somebody say "wings"?!), and smokey Jack Daniels bloody mary's to offer y'all.
Coverage on our huge HD screen will transport you to all the action over in Houston, Texas. Check out the FB event for more!
PJ O'Briens Southgate
On Monday 6 February, doors open at 9am with an All American Menu & Beers.
$25 Bucket of (4) Coors – Watch the game Live with sound on all our screens.
Bookings advised call 9686 5011 or find out more information on the website
Swan Hotel Richmond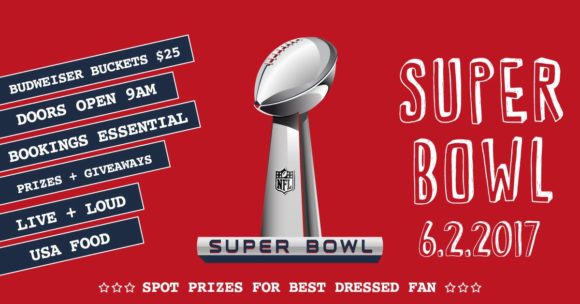 Join us for the 51st Super Bowl on Monday 6 February from 10am.
We have $25 Bud Buckets, USA food specials and prizes and giveaways. As well as spot prizes for the best dressed fan! Visit the Swan Facebook Event
Sporting Globe Richmond / Moonee Ponds / Watergardens / Geelong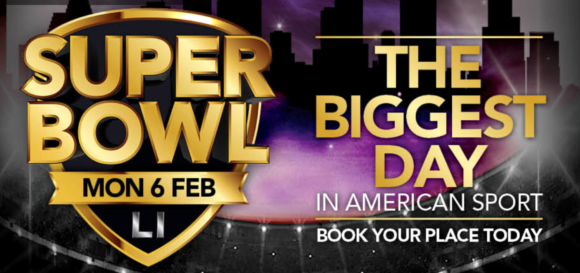 Opens 8am – range of VIP booths, bookings and options across all their stores.
Check out their website!!
Prince Alfred Port Melbourne
$20 Coors buckets & $10 Super Bowl snacks from 10am
Prince Alfred Hotel – 355 Bay St, Port Melbourne
www.princealfred.com.au
Turf Sports Bar Melbourne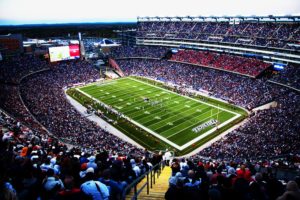 Watch the Super Bowl in Melbourne at the venue that started it all – Turf Sports Bar. Doors open 9am, with an All American Menu and buckets of Budweiser (4) for $25, plus prizes and giveaways.
We are already taking bookings for this MASSIVE day at Turf – email turf@turfbar.com.au or call 9670 1271.
Live and loud here at Turf Sports Bar – Melbourne's Premiere Sports Bar.
West Village NYC at South Wharf
West Village is hosting the biggest Super Bowl party for the the biggest day in American sport. Round The Way Bagels will be serving finger food all day, as well as free pour coors from whistle to whistle for $75. Otherwise if your taking it a bit easier, you can still get unlimited finger food for $35. Join us for one hell of a party! Buy tickets online here
The Leveson Hotel North Melbourne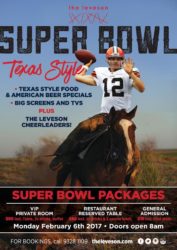 Super Bowl TEXAS STYLE – Texas food and American Beer specials. BIG screens and TVs plus the LEVESON CHEERLEADERS!
VIP private room $90 including 3 drinks & buffet through to General Admin for $15 including first drink free!
Jump on their website to find out more
St Kilda Branch
Include all drinks from 10am – 3pm at 204 Barkly Street, St Kilda
Jump online for tickets and more info! www.thestkildabranch.com.au/tickets
2017 Ultimate Aussie Bowl Party at Docklands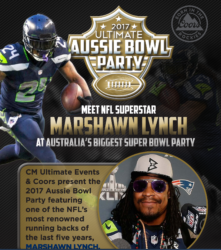 CM Ultimate Events & Coors present the 2017 Aussie Bowl Party featuring one of the NFL's most renowned running backs of the last five years, MARSHAWN LYNCH.
For packages and prices Check out the Ultimate Aussie Bowl Party website
Eastern Suburbs
Hawthorn Hotel, Hawthorn
Expect buckets of beer & "American" food from the kitchen to keep you watered and fed ALL DAY LONG. Full menu & prices to be announced soon, so get ready for more updates.
Check out the Hawthorn Hotel Super Bowl Facebook event
Skinny Dog Hotel – Kew
Take the day off and join us for Super Bowl LI, live and loud in the
Skinny Dog Sports Bar, 155 High St, Kew.
Get the party started with buckets of Bud for $20 and our epic Bloody
Marys! We'll be serving American BBQ style food all day too.
Come cheer on your team at Skinny! Doors from 9am. Check out the Skinny Dog website
Hoops Sports Bar Boronia
Hoops Sports Bar in Boronia holds and annual Super Bowl party every year. This year will be bigger than ever with new projector screens, American inspired menu, VIP packages, beer bucket specials & more!
Check out www.hoopssportsbar.com.au
Super Bowl Parties out West
Q Lounge Melton (with the Melton Wolves)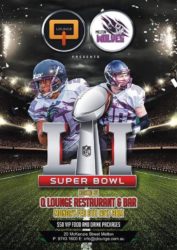 Melton's biggest Super Bowl party ever!  Nachos, buffalo wings, hotdogs and beers! Oh and Super Bowl LI on the 120 inch big screen at Q!
$50 entry fee gets you 8 Coors stubbies, 6 wings, 1 fully loaded hotdog.
For more info check out their facebook event here
Northern Suburbs Super Bowl Parties
Fitzroy Social
222 Brunswick Street Fitzroy 0 Showing the game on our large projector screen
Open from 10:30am -$12 Coors Jugs 11am-3pm; $5 Pizzas; American Candied Maple Bacon Cheeseburger $16; Cheesy Fries $8; 12 Buffalo Wings $16; Nachos $10
The Old Bar Fitzroy
74-76 Johnston Street Fitzroy – Doors open from 8am and Free for everyone, Watch live on massive projector screen. Super Bowl menu and American beers on tap plus Outdoor seating area.
The Penny Black – Brunswick
We're throwing the biggest Super Bowl party on the northside – 420 Sydney Rd, Brunswick!
We'll be showing the game on TWO big screens – indoors AND outside in
our beer garden – with the pre-game entertainment starting at 9am.
Grab yourself a bucket of Bud for $25 and 1 kilo of wings for just $10
or our American burger special – that's double patty, double cheese
and a whole lotta USA vibe!
Take the day off and come party with us! Check out the website for more
Pascoe Vale Hotel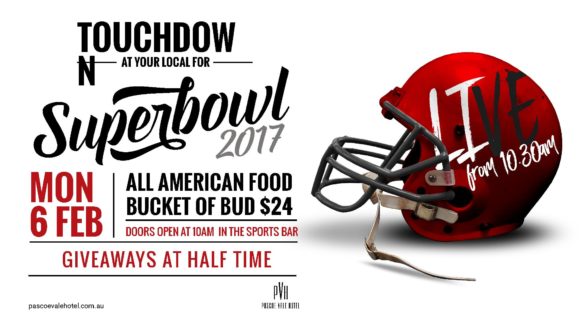 Head into PVH for an All American Superbowl with All American food,
buckets of Bud and giveaways at half time! Opening from 10am. 
Queensberry Hotel Carlton
Queensberry Hotel will be showing the Super Bowl on 4 screens
throughout the hotel in conjunction with a Corona and Budweiser
promotion. Main screen in front bar will have sound running through it.
Check out the Queensberry website
Carlton North – Ballers Downunder 2017 Super Bowl Party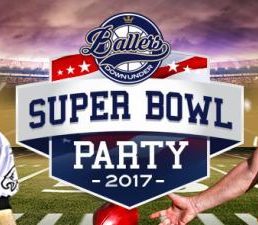 Former NFL Punter Saverio Rocca and more guests to be announced.
All-American menu, drinks and more at San Remo Ballroom, 365 Nicholson Street Carlton North – Check out their website here
Welcome to Thornbury
Food trucks, huge open space and big screens. More details coming soon!
Southern Suburbs
Half Moon – Brighton
It's SUPERBOWL SEASON at Half Moon! We're the best spot in Brighton to
get your Superbowl fix – 120 Church Street, Brighton VIC 3186
We've got all the pre-game, during-game and post-game goodness going on from 9am, including Coors Beer buckets and Bourbon Bloody Marys to get the party going!
And to get your tastebuds tingling, we've sorted out a delicious American-style brunch menu to keep you satisfied all day long.
Check out their website for details
Big Jim's Super Bowl Party Frankston 
The South Easts very own Inaugural Super Bowl Party hosted by American Football guru Big Jim from bigjimwin.com at the iconic Flanagans Bar in Frankston.
Entertainment, prizes and competitions. Massive screen (with a GREAT picture) and 8 more flat screen TV's so you wont miss a second of the game.
Free American style hot dogs and wash them down with the BEST drink specials you will find @ any Super Bowl Party. $6 pints and $3 pots of ALL tap beer and cider and $8/$7 stubbies of Jack Daniels and Jim Beam!!! Get your tickets @ bigjimwins.com or buy them directly at Flanagans Bar or Pier Hotel Frankston.
Any questions or for large bookings contact Big Jim himself on 0415663080.
Or, join Gridiron Victoria clubs at their team events and maybe sign up to play this year!
Ballarat: Ballarat Falcons @ Mojo Bar Ballarat
Bendigo: Bendigo Dragons @ Foundary Hotel Complex in Bendigo
Brunswick: Melbourne Uni Gridiron @ Victoria Hotel
Geelong: Geelong Buccaneers @ Sporting Globe Geelong
Hawthorn: Croydon Rangers @ Hawthorn Hotel
Melton: Wolves @ Q Lounge Melton
Traralgon: Gippsland Gladiators @ Dal Mondo Restaurant & Function Centre, Traralgon
Preston: Northern Raiders @ Olympic Hotel
St Kilda: Monash Warriors @ Elephant Wheelbarrow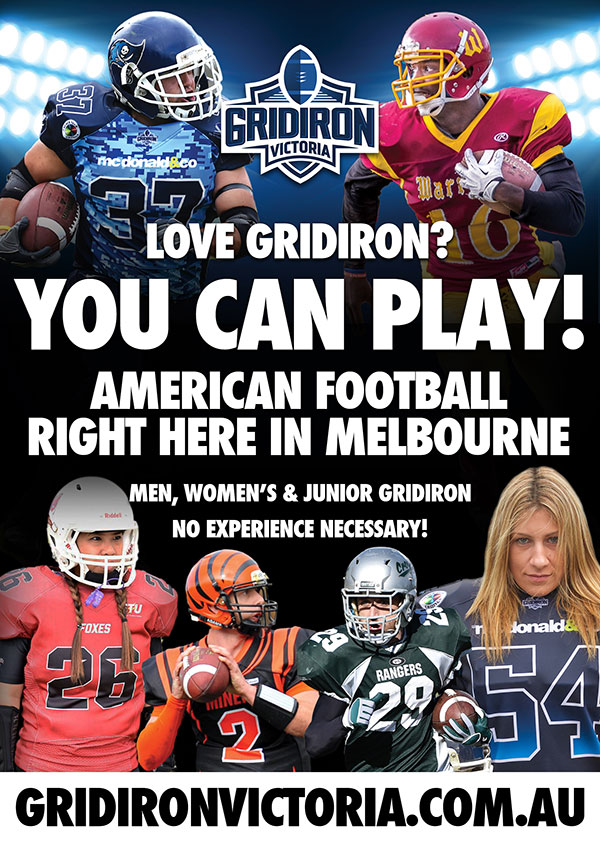 Below are events from 2016 but you can be sure they are likely hosting a party again in 2017!
Imperial Hotel South Yarra
Doors open 9am Live and Loud imperialsouthyarra.com
Vaucluse Hotel Richmond
Open from 9am with the game on all their big TVs. Check out their website
The Palace Hotel South Melbourne
Doors open 9am! Live 'n Loud all screens! $5 baskets of Franks Hot sauce wings and Brooklyn on tap Visit their website for more info
Notting Hill Hotel
Live on the indoor and huge outdoor screen at The Nott on Monday 8th February from 10am Budweiser and wing specials during the game
Ormond Hall – Village Melbourne on StKilda Road
1 huge screen plus other large screens. Ribs and 16 flavours of wings! $12 for standing room or $22 for a seat with a breaky burrito! Check out their what's on for more details!
Wharf Hotel
Super Bowl 50 broadcast LIVE & LOUD over 8 large screens! $25 Budweiser Buckets & $20 Breakfast Nachos + Bottle of Budweiser HALF TIME GAMES & GIVEAWAYS
Table reservations are available. Please call us on 03 8680 6000 to make your reservation now! Event website here
Main bar & Saloon @ Greensborough Hotel
$5 American Stubbies; $7 Hot dog & beer! Live coverage from 10am Check out their website
Want to play Gridiron?