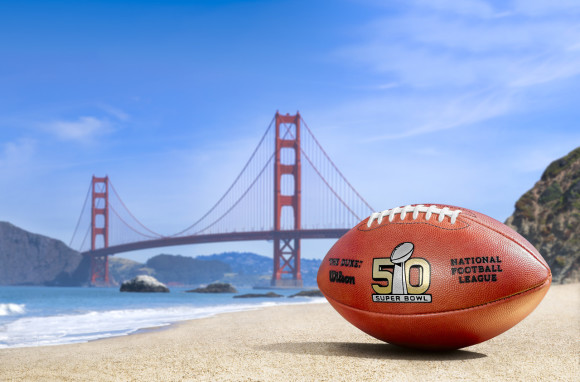 Looking for somewhere to watch the Super Bowl on Monday 6th February 2017 in Melbourne?
Our list for 2017 will be updated soon. Check out our amazing list from Super Bowl 50 in 2016.
Ultimate Aussie Bowl Party at Docklands
Ever wanted to be a part of the Biggest Sporting Event in America? CM Ultimate Events can make it happen.
Interactive along with CM Ultimate Events and current Miami Dolphins Wide Receiver Kenny Stills bring you the biggest Super Bowl party in the Southern Hemisphere!
For packages and prices Check out the Ultimate Aussie Bowl Party website
Imperial Hotel South Yarra
Doors open 9am Live and Loud imperialsouthyarra.com
Swan Hotel Richmond
Full American menu, $20 buckets of American beer. Open from 9am Visit the Swan Website
West Village NYC at South Wharf
Identify yourself as a GV member for a free pot of Coors!
Live on our big screens and pumped loud throughout South Wharf! $22 buckets of Buds and Coors, American Burgers, Wings and BLTs. Early morning breakfast and Super Bowl giveaways on Dukes Walk South Wharf. Check their website
TGI Friday's stores around Victoria!
Our good friends at TGI Friday's will be open early and showing the game on their countless big screens around ALL THEIR STORES listed below:
Book with your closest TGI's store ( Southland , Jam Factory,  Melbourne Central , Forest Hill Chase , Southbank , Epping and Fountain Gate.
Vaucluse Hotel Richmond
Open from 9am with the game on all their big TVs. Check out their website
The Palace Hotel South Melbourne
Doors open 9am! Live 'n Loud all screens! $5 baskets of Franks Hot sauce wings and Brooklyn on tap Visit their website for more info
Notting Hill Hotel
Live on the indoor and huge outdoor screen at The Nott on Monday 8th February from 10am Budweiser and wing specials during the game
Skinny Dog Hotel Kew
Skinny Dog Hotel has 11 huge screens so you don't miss a thing, add $20 Coors buckets, fantastic giveaways and free entry what more could you want? Check out their website for more details
Ormond Hall – Village Melbourne on StKilda Road
1 huge screen plus other large screens. Ribs and 16 flavours of wings! $12 for standing room or $22 for a seat with a breaky burrito! Check out their what's on for more details!
Great Northern Hotel Carlton
American food and beer, doors at 9am, 9 HD screens Check out the Great Northern Hotel Website
Melbourne Public on South Wharf
Book your table now down on the water! DJ's and live music all day! Event website here
Prahran Hotel
Doors open at 10am with all the action live with sound on over 15 screens throughout the venue. Enjoy State side food and bev specials including mac n' cheese croquettes, buffalo hot wings, sloppy joe?'?s, Chicago devil dogs and buckets of Pabst Blue Ribbon Tinnies & Coors Light. There will be a half time points margin sweepstake and prizes for best dressed, so don't forget your pads! For bookings and enquiries call (03) 9529-2168
Wharf Hotel
Super Bowl 50 broadcast LIVE & LOUD over 8 large screens! $25 Budweiser Buckets & $20 Breakfast Nachos + Bottle of Budweiser HALF TIME GAMES & GIVEAWAYS
Table reservations are available. Please call us on 03 8680 6000 to make your reservation now! Event website here
Sporting Globe Richmond / Moonee Ponds / Watergardens / Geelong
Free entry – featuring Ben Graham; $40 VIP booths; $20 buckets of Bud; $20 Bud & breakfast deal. Join the Geelong Buccaneers down there in Geelong!
Check out their website
Leveson North Melbourne
Packages from $15 for entry with first drink through to VIP private room for only $85 pp. American beers and food, dress up competition and lots of TVS. More on their website
Main bar & Saloon @ Greensborough Hotel
$5 American Stubbies; $7 Hot dog & beer! Live coverage from 10am Check out their website
Or, join Gridiron Victoria clubs at their team events and maybe sign up to play this year!
Ballarat: Ballarat Falcons @ Mojo Bar Ballarat
Bendigo: Bendigo Dragons @ The Bridge Hotel
Brunswick: Melbourne Uni Gridiron @ Victoria Hotel
Geelong: Geelong Buccaneers @ Sporting Globe Geelong
Hawthorn: Croydon Rangers @ Hawthorn Hotel
Morwell: Gippsland Gladiators @ Top Pub
Preston: Northern Raiders @ Olympic Hotel
St Kilda: Monash Warriors @ Elephant Wheelbarrow
Precinct Hotel Richmond; Turf Bar CBD; Waterside Hotel and plenty of other venues will be open as well!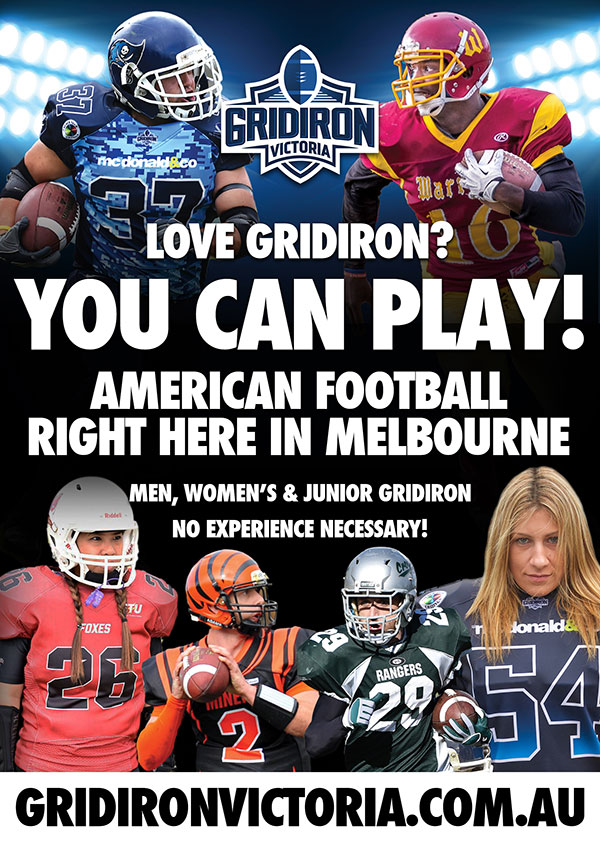 Want to play Gridiron?