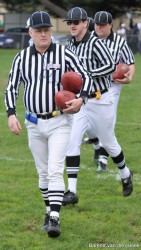 The IFAF Officiating Committee has appointed David Sinclair to the panel for this years event which will be held in Austin, Texas from June 29th to July 7th.
David was a founding member of the VGOA in 1986 and has worked more than 350 games, mainly at Referee and Umpire. He will work the Umpire position during the tournament.
David becomes the third VGOA official to be appointed to IFAF World Cups after Tony Martin (2009 Juniors – USA) and Paul Mercer (2011 Seniors – Austria) and we wish him every success.