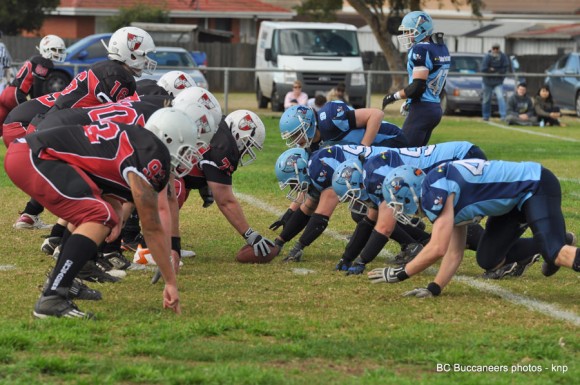 Week three of the 2011 Gridiron Victoria season began Saturday morning in Corio with the top two teams in division one facing off. The Bay City Buccaneers, fresh from a bye hosted the Western Crusaders and were never troubled, powering to a big win  55-14 and top spot in the standings.
In the afternoon game, the top two teams in the second division went to battle with the Northern Raiders playing the Croydon Rangers 2.  The Raiders go on the scoreboard early with a couple of touchdowns, only for the Rangers to respond early in the second half. The Raiders proved too strong and won 20-8.
On Sunday, the Monash Barbarians defeated the Ballarat Pioneers in a close game in great conditions 18-6, giving the Barbarians their first win of the year.
Following in the afternoon, the Berwick Miners faced the Croydon Rangers with the Rangers getting up 49-0 in a game that was closer than the scoreline suggests.
Also on Sunday, the Gippsland Gladiators hosted the Melbourne Uni Royals at their home ground in Morewell. The Gladiators were great in front of their home crowd, winning 17-0 although the Royals certainly had every chance to get in the scoreboard.