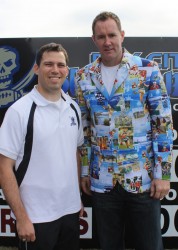 Fantastic opening weekend for Gridiron Victoria.
Kicking things off Saturday morning saw the Vic Bowl rematch between the reigning champion Monash Warriors, and the Bay City Buccaneers in Geelong. Ben Graham of NFL team Arizona Cardinals and former Geelong Cats Captain was the Buccaneers' guest and tossed the  coin pre-game.
(Ben is shown right with GV president Dan Levin – click the picture for a larger view)
The Buccaneers overcame a 6-6 half time stalemate to run away with the win 41-6. In the later game, the Melbourne Royals defeated the Ballarat Pioneers 38-0.
The other two games were at Ranger Field in Croydon with the Northern Raiders defeating a stoic Monash Barbarians 24-8, followed by a thriller with the host Croydon Rangers being defeated by the Western Crusaders 22-20.