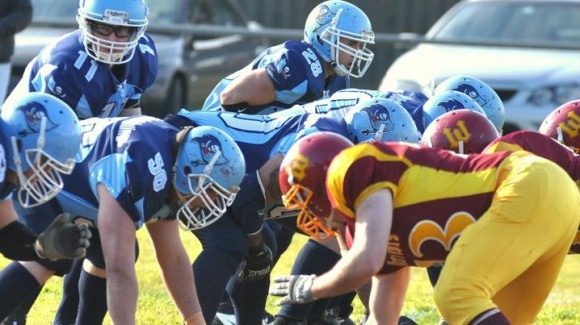 © BC Buccaneers Photos – KNP
Week 11 of the 2011 Gridiron Victoria season and things are getting really interesting with four teams still in the mix for the final three playoff spots with four weeks to go.
On Saturday, another rematch of 2010 Vic Bowl between the home town Bay City Buccaneers and the Monash Warriors saw the Buccs get the win 16-0. Later in the day the Melbourne Uni Royals defeated the Ballarat Pioneers 28-13.
On Sunday morning in Footscray the Monash Barbarians faced the Gippsland Gladiators and the Gladiators kept their playoff dreams alive with an 18-0 win.
Later in the day, the Western Crusaders and the Croydon Rangers went to battle with the visiting Rangers getting the win 20-0.
With four rounds to go, the Rangers and Buccs are assured a top two finish, whilst the Crusaders and Warriors battle for the final division one playoff spot.
In division two, the Raiders are assured a finals appearance, whilst the Rangers2, Royals and Gladiators can all finish as high as second.