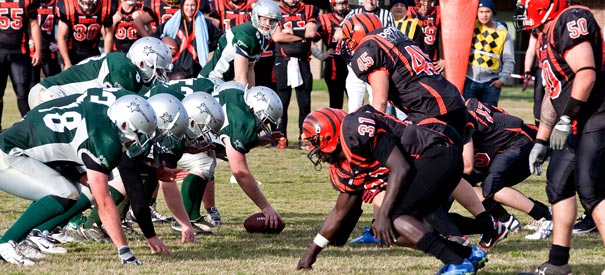 Gridiron Victoria headed into week 2 with all four matches played on Saturday 12th May so we can take time out to pay our respects to Mums everywhere on Sunday.
In Reservoir, the home town Northern Raiders hosted the Monash Barbarians in the morning game. The feisty Barbarians lead 8-6 at half time but couldn't hold back the home team who overpowered them for an 18-8 win.
In the afternoon the Monash Warriors, fresh from knocking off the Buccs in week 1 hosted the Western Crusaders in the battle of undefeated teams. Both teams were strong on defense but the Warriors won 18-2.
To the East in Croydon and the freshly minted Croydon Stars hosted the Melbourne Uni Royals up first. The Stars drew first blood and lead 6-3 at halftime before the Royals ran riot in the second half to win 36-12.
The afternoon game saw the Croydon Rangers and the Berwick Miners. The Miners scored early on a nice touchdown pass before the Rangers got going for a 21-7 lead at the main break. Final score was 27-9.