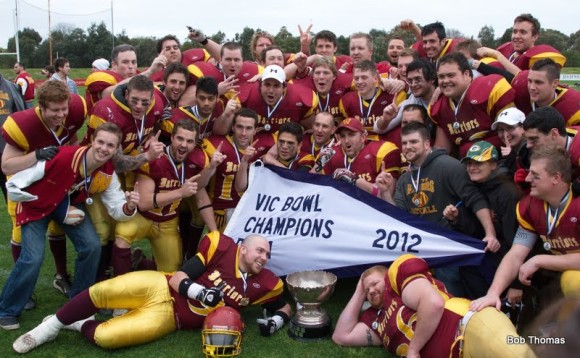 With one week to play in the regular season, the 2013 playoff picture is set for both divisions. All preliminary finals will be on Sunday 18th August at 2 venues.
Preliminary Final Results
Division One Preliminary Final
Monash Warriors defeat Croydon Rangers 40-6
Division Two 1st Preliminary Final
Monash Barbarians defeat Bendigo Dragons 32-6
Division Two 2nd Preliminary Final
Melbourne Uni Royals  defeat Northern Raiders 3-0
Playoff Picture – Division One
The Geelong Buccaneers have clinched the minor premiership and advanced straight to the 2013 TGI Friday's Vic Bowl. There they await for the winner of our division one preliminary final between the Monash Warriors and Croydon Rangers.
Playoff Picture – Division Two
With four teams in the finals we have two preliminary finals with the winners of each match advancing to the 2013 Division Two Championship game which is played as the curtain raiser to the Vic Bowl.
Monash Barbarians vs Bendigo Dragons
Northern Raiders vs Melbourne Uni Royals
The championship deciders will  be on Saturday 24th August at Moorabbin Oval. Visit the Facebook  page for more info about the 2013 TGI Friday's VIC BOWL