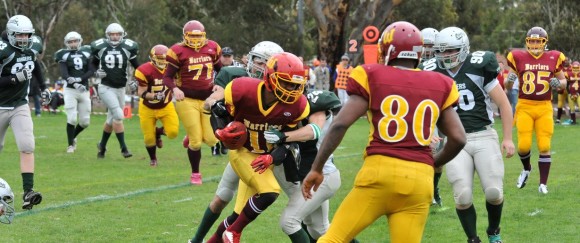 Week 11 of the 2013 Gridiron Victoria season and we have turned the corner on our crossover games and now the final five rounds towards the playoffs.
Results from week 11
Monash Barbarians defeat Melbourne Uni Royals 32-14
Croydon Rangers defeat Monash Warriors 21-12
Northern Raiders defeat Bendigo Dragons 60-0
Geelong Buccaneers defeat Berwick Miners 50-12
A couple of massive matchups that will help shake out the standings, remembering that the top 3 advance in division 1, whilst the final 4 will battle it out in division 2.
Saturday July 13th @ Ranger Field, Springfield Avenue Croydon
Division Two Championship rematch with the Royals and Barbarians going to battle in the early game at 10:30am. Followed by the home town Rangers taking on the Warriors at 1:30pm with the Rangers trying to get into the top 3.
Sunday July 14th @ Raider Field, LE Cotchin Reserve Reservoir
The Raiders host the Dragons in the early game at 10:30am with the home team looking to cement a playoff berth and the Dragons sneak into 4th.
This is followed by the Miners and Buccaneers from 1:30pm.
Good luck to all teams!