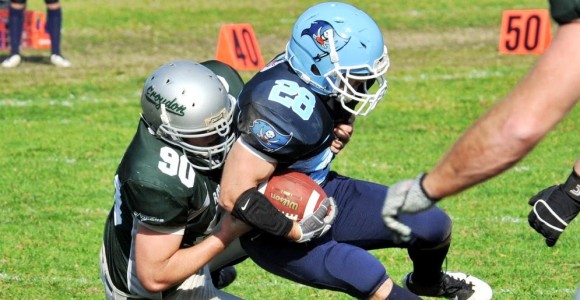 Week 12 of the 2013 Senior Season and things are really heating up.
2013 Week 12 Results
Geelong Buccaneers defeat Croydon Rangers 40-6
Monash Barbarians defeat Ballarat Falcons 50-0
Northern Raiders defeat Gippsland Gladiators 19-0
Melbourne Uni Royals defeat Bendigo Dragons 44-6
Monash Warriors defeat Western Crusaders 51-0
This Saturday at Raider Field in Reservoir the Northern Raiders host the Gippsland Gladiators. A Raider win will clinch a playoff berth whilst the Gladiators are only 1 point inside the top 4. Kickoff is 1:30pm.
Also Saturday down in Corio, the early morning game sees the Geelong Buccaneers host the Croydon Rangers. The Buccaneers are celebrating their 10th anniversary and will look to remain undefeated whilst the Rangers look to knock off another top team in successive weeks. In the afternoon game the Ballarat Falcons take on the Monash Barbarians in a battle of the division two bookends.
On Sunday we head to Footscray and a massive matchup between 3rd placed Melbourne Uni Royals and the 5th placed Bendigo Dragons. A Royals win makes their playoff chances look much better whilst the Dragons are only half a win outside the finals. The afternoon game sees the home town Western Crusaders take on the Monash Warriors at 1:30pm in what is always a cracking contest.