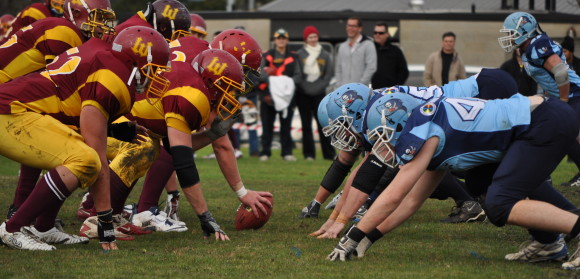 The penultimate round of the 2013 senior season and a cracking Saturday of football gets us started down in Geelong.
Week 14 Results:
Geelong Buccaneers defeat Monash Warriors 26-8
Bendigo Dragons defeat Ballarat Falcons 34-0
Western Crusaders defeat Berwick Miners 28-14
Melbourne Uni Royals defeat Gippsland Gladiators 27-12
In what could be a preview of the 2013 TGI Friday's VIC BOWL, the top of the table clash between the Geelong Buccaneers and Monash Warriors kicks off at 10:30am.
A Buccaneer win (or draw) will see them clinch top spot and a place in their 4th straight Vic Bowl. A Warrior win would keep the door ajar for a final round scenario where they could steal the minor premiership.
In the afternoon the Bendigo Dragons face the Ballarat Falcons. A Dragons win will clinch the 4th and final playoff spot in division two, whilst the Falcons will be keen to spoil the party and get their first points for the year.
On Sunday we head to Parkville. NOTE: the games have flipped the start times!
The 10:30am early game is the Western Crusaders vs Berwick Miners with bragging rights on the line. This is followed by the Melbourne Uni Royals hosting the Gippsland Gladiators at 1:30pm. Royals are locked into 3rd spot but will want to tune up for the playoffs whilst the Gladiators must win if they have any chance of taking the 4th and final spot in the post season.
Massive weekend of matches – good luck to all teams!