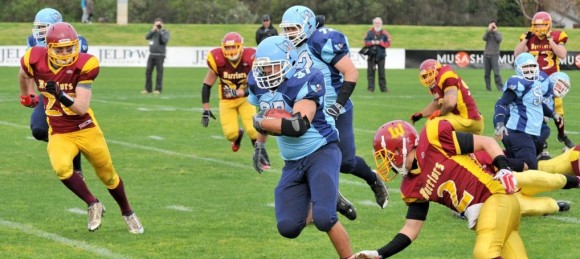 The 2014 Gridiron Victoria Senior men's season is OUR BIGGEST EVER with 14 teams competing and two new clubs.
This year the competition comprises two divisions split into conferences and seeded in this order:
Division One (10 teams)
Conference A
Monash Warriors,  Croydon Rangers, Berwick Miners,  Melbourne Uni Royals, Bendigo Dragons
Conference B
Geelong Buccaneers,  Western Crusaders,  Monash Barbarians,  Northern Raiders, South Eastern Predators
Division Two (4 teams)
Gippsland Gladiators, Ballarat Falcons, Pakenham Silverbacks, Melbourne Uni Lions
Division one will play each other twice in their own conference and once cross-conference (13 games). Division two will play each other 4 times (12 games total).
2014 Senior Men's Fixture
Please find the 2014 fixture detailed below,
or download the 2014 Gridiron Victoria Senior Men's Season Fixture (PDF)
Schedule of Events for 2014 (PDF)
Week 1 – Saturday 3rd May & Sunday 4th May
Saturday 3rd May – The Cove: Corio Community Reserve, 20 Hendy Street Corio (enter off Bogong)  (Google Map)
| | | |
| --- | --- | --- |
| 10:30am | South Eastern Predators defeat Western Crusaders |  6-0 |
| 1:30pm | Geelong Buccaneers defeat Monash Warriors |  49-22 |
Saturday 3rd May – Ranger Field, Springfield Avenue Croydon (Google Maps)
| | | |
| --- | --- | --- |
| 10:30am | Ballarat Falcons defeat Gippsland Gladiators |  16-14 |
| 1:30pm | Croydon Rangers defeat Bendigo Dragons |  18-8 |
Sunday 4th May – Brens Oval, Royal Park, Macarthur Road Parkville (Google Map) 
| | | |
| --- | --- | --- |
| 10:30am | Melbourne Uni Lions drew Pakenham Silverbacks |  8-8 |
| 1:30pm | Berwick Miners defeat Melbourne Uni Royals |  14-13 |
Sunday 4th May - LE Cotchin Reserve, Massey Avenue Reservoir  (Google Maps)
| | | |
| --- | --- | --- |
| 1:00pm | Monash Barbarians defeat Northern Raiders | 30-14 |
Week 2 – Saturday 10th May
Saturday 10th May - LE Cotchin Reserve, Massey Avenue Reservoir  (Google Maps)
| | | |
| --- | --- | --- |
| 10:30am | Bendigo Dragons defeat Melbourne Uni Royals |  24-6 |
| 1:30pm | South Eastern Predators defeat Northern Raiders |  15-0 |
Saturday 10th May - Sydney Pargeter Reserve, Power Road Endeavour Hills  (Google Map)
| | | |
| --- | --- | --- |
| 10:30am |  Geelong Buccaneers defeat Monash Barbarians | 55-0 |
| 1:30pm | Monash Warriors defeat Berwick Miners |  30-0 |
Saturday 10th May - Maryvale Reserve, Grant Street Morwell (Google Map)
| | | |
| --- | --- | --- |
| 10:30am | Gippsland Gladiators defeat Pakenham Silverbacks |  28-0 |
| 1:30pm | Ballarat Falcons defeat Melbourne Uni Lions |  30-0 |
Bye: Crusaders, Rangers
Week 3 – Saturday 17th May & Sunday 18th May
Saturday 17th May - The Cove Corio Community Reserve, 20 Hendy Street Corio (enter off Bogong)  (Google Map)
| | | |
| --- | --- | --- |
| 10:30am | Ballarat Falcons defeat Pakenham Silverbacks |  15-12 |
| 1:30pm | Geelong Buccaneers defeat South Eastern Predators | 41-7 |
Saturday 17th May – Ranger Field, Springfield Avenue Croydon (Google Maps)
| | | |
| --- | --- | --- |
| 10:30am | Gippsland Gladiators defeat Melbourne Uni Lions |  58-6 |
| 1:30pm | Croydon Rangers defeat Melbourne Uni Royals |  28-0 |
Sunday 18th May - Sydney Pargeter Reserve, Power Road Endeavour Hills  (Google Map)
| | | |
| --- | --- | --- |
| 10:30am | Monash Warriors defeat Bendigo Dragons |  44-6 |
| 1:30pm | Monash Barbarians defeat Berwick Miners |  28-8 |
 Sunday 18th May - Henry Turner Reserve, Maribyrnong Blvd Footscray (Google Map)
| | | |
| --- | --- | --- |
| 1:00pm | Western Crusaders d Northern Raiders |  25-0 |
Week 4 – Saturday 24th May & Sunday 25th May
Saturday 24th May - Henry Turner Reserve, Maribyrnong Blvd Footscray (Google Map)
| | | |
| --- | --- | --- |
| 10:30am | Bendigo Dragons defeat Berwick Miners |  14-0 |
| 1:30pm | Geelong Buccaneers defeat Western Crusaders |  50-0 |
Saturday 24th May – Ranger Field, Springfield Avenue Croydon (Google Maps)
| | | |
| --- | --- | --- |
| 10:30am | South Eastern Predators draw Monash Barbarians |  6-6 |
| 1:30pm | Monash Warriors defeat Croydon Rangers |  20-6 |
Sunday 25th May - White Flat Oval, Moyle Street Ballarat (Google Maps)
| | | |
| --- | --- | --- |
| 10:30am | Pakenham Silverbacks defeat Melbourne Uni Lions |  38-20 |
| 1:30pm | Gippsland Gladiators defeat Ballarat Falcons |  24-0 |
Bye: Royals, Raiders
Week 5 – Saturday 31st May & Sunday 1st June
Saturday 31st May - The Cove Corio Community Reserve, 20 Hendy Street Corio (enter off Bogong)  (Google Map)
| | | |
| --- | --- | --- |
| 10:30am | Western Crusaders def Monash Barbarians |  35-0 |
| 1:30pm | Geelong Buccaneers def Northern Raiders |  44-0 |
Sunday 1st June - Sydney Pargeter Reserve, Power Road Endeavour Hills  (Google Map)
| | | |
| --- | --- | --- |
| 10:30am | Bendigo Dragons def South Eastern Predators |  6-0 |
| 1:30pm | Croydon Rangers def Berwick Miners |  20-0 |
 Sunday 1st June - Brens Oval, Royal Park, Macarthur Road Parkville (Google Map)
| | | |
| --- | --- | --- |
| 1:00pm | Monash Warriors def Melbourne Uni Royals |  56-0 |
Bye: Gladiators, Lions, Falcons, Silverbacks
Week 6 - Saturday 7th & Sunday 8th June
Saturday 7th June - Sydney Pargeter Reserve, Power Road Endeavour Hills (Google Map)
| | | |
| --- | --- | --- |
| 1:00pm | Ballarat Falcons def Melbourne Uni Lions | 14-0 |
| 4:00pm | South Eastern Predators def Melbourne Uni Royals |  28-8 |
| 7:00pm | Berwick Miners def Northern Raiders |  16-0 |
Saturday 7th June - Tom Flood Sports Centre, Park Road Bendigo (Google Map)
| | | |
| --- | --- | --- |
| 4:00pm | Geelong Buccaneers def Croydon Rangers |  12-7 |
| 7:00pm | Bendigo Dragons def Monash Barbarians |  70-16 |
Sunday 8th June - Henry Turner Reserve, Maribyrnong Blvd Footscray (Google Map)
| | | |
| --- | --- | --- |
| 10:30am | Gippsland Gladiators def Pakenham Silverbacks |  34-12 |
| 1:30pm | Monash Warriors def Western Crusaders |  28-26 |
Week 7 – Saturday 14th June & Sunday 15th June
Saturday 14th June - White Flat Oval, Moyle Street Ballarat (Google Maps)
| | | |
| --- | --- | --- |
| 10:30am | Ballarat Falcons def Pakenham Silverbacks |  15-6 |
| 1:30pm | Western Crusaders def Bendigo Dragons |  18-0 |
Saturday 14th June - The Cove: Corio Community Reserve, 20 Hendy Street Corio (enter off Bogong)  (Google Map)
| | | |
| --- | --- | --- |
| 10:30am | Gippsland Gladiators def Melbourne Uni Lions |  58-0 |
| 1:30pm | Geelong Buccaneers def Melbourne Uni Royals |  62-6 |
Sunday 15th June - LE Cotchin Reserve, Massey Avenue Reservoir  (Google Maps)
| | | |
| --- | --- | --- |
| 10:30am | Monash Warriors def Monash Barbarians |  78-6 |
| 1:30pm | Croydon Rangers def Northern Raiders |  35-0 |
Sunday 15th June - Sydney Pargeter Reserve, Power Road Endeavour Hills  (Google Map)
| | | |
| --- | --- | --- |
| 1:00pm | Berwick Miners def South Eastern Predators |  8-0 |
Week 8 –  Sunday 22nd June (Division one bye)
Sunday 22nd June - Brens Oval, Royal Park, Macarthur Road Parkville (Google Map)
| | | |
| --- | --- | --- |
| 10:30am | Gippsland Gladiators def Ballarat Falcons | 34-20 |
| 1:30pm |  Pakenham Silverbacks def Melbourne Uni Lions | 31-6 |
Bye: (All Division 1) Warriors, Buccaneers, Rangers, Crusaders, Miners, Dragons, Barbarians, Royals, Raiders, Predators
Week 9 – Saturday 28th June & Sunday 29th June
Saturday 28th June - Sydney Pargeter Reserve, Power Road Endeavour Hills  (Google Map)
| | | |
| --- | --- | --- |
| 1:00pm | Geelong Buccaneers def Berwick Miners | 26-0 |
Saturday 28th June - Ranger Field, Springfield Avenue Croydon (Google Maps)
| | | |
| --- | --- | --- |
| 10:30am | Monash Warriors def South Eastern Predators | 42-0 |
| 1:30pm | Croydon Rangers def Monash Barbarians | 52-12 |
Sunday 29th June - Henry Turner Reserve, Maribyrnong Blvd Footscray (Google Map)
| | | |
| --- | --- | --- |
| 10:30am | Bendigo Dragons def Northern Raiders | 64-0 |
| 1:30pm | Western Crusaders def Melbourne Uni Royals | 38-24 |
Bye: Gladiators, Falcons, Silverbacks, Lions
Week 10 – US Independence Day Celebration
Saturday 5th July & Sunday 6th July
Saturday 5th July – The Cove: Corio Community Reserve, 20 Hendy Street Corio (Google Map)
| | | |
| --- | --- | --- |
| 10:30am | Croydon Rangers def South Eastern Predators |  32-0 |
| 1:30pm | Geelong Buccaneers def Bendigo Dragons | 60-28 |
Saturday 5th July - White Flat Oval, Moyle Street Ballarat (Google Maps)
| | | |
| --- | --- | --- |
| 1:00pm | Ballarat Falcons def Melbourne Uni Lions (forfeit) |  7-0* |
Sunday 6th July - Maryvale Reserve, Grant Street Morwell (Google Maps)
| | | |
| --- | --- | --- |
| 10:30am | Pakenham Silverbacks def Gippsland Gladiators | 7-6 |
| 1:30pm | Western Crusaders def Berwick Miners | 7-0 |
Sunday 6th July - LE Cotchin Reserve, Massey Avenue Reservoir  (Google Maps)
| | | |
| --- | --- | --- |
| 10:30am | Melbourne Uni Royals def Monash Barbarians | 44-38 |
| 1:30pm | Monash Warriors def Northern Raiders | 46-0 |
Week 11 – Saturday 12th July & Sunday 13th July
Saturday 12th July - Tom Flood Sports Centre, Park Road Bendigo (Google Map)
| | | |
| --- | --- | --- |
| 4:00pm | Western Crusaders def South Eastern Predators |  13-12 |
| 7:00pm | Croydon Rangers def Bendigo Dragons | 14-6 |
Saturday 12th July - LE Cotchin Reserve, Massey Avenue Reservoir (Google Maps)
| | | |
| --- | --- | --- |
| | Gippsland Gladiators def Melbourne Uni Lions (forfeit) | 7-0 |
| 1:30pm | Monash Barbarians def Northern Raiders |  34-30 |
Bye: Warriors, Buccaneers
Sunday 13th July - Sydney Pargeter Reserve, Power Road Endeavour Hills  (Google Map)
| | | |
| --- | --- | --- |
| 10:30am | Pakenham Silverbacks def Ballarat Falcons |  18-0 |
| 1:30pm | Berwick Miners def Melbourne Uni Royals |  52-6 |
Week 12 – Saturday 19th July & Sunday 20th July
Saturday 19th July - Sydney Pargeter Reserve, Power Road Endeavour Hills  (Google Map)
| | | |
| --- | --- | --- |
| 10:30am | Monash Warriors defeat Melbourne Uni Royals |  64-0 |
| 1:30pm | Croydon Rangers defeat Berwick Miners |  14-6 |
Sunday 20th July - LE Cotchin Reserve, Massey Avenue Reservoir (Google Maps)
| | | |
| --- | --- | --- |
| 10:30am | Western Crusaders defeat Monash Barbarians |  35-6 |
| 1:30pm |  Geelong Buccaneers defeat Northern Raiders |  50-6 |
Bye: Dragons, Predators, Gladiators, Falcons, Silverbacks, Lions
Week 13 – Saturday 26th July & Sunday 27th July
Saturday 26th July - The Cove: Corio Community Reserve, 20 Hendy Street Corio (enter off Bogong)  (Google Map)
| | | |
| --- | --- | --- |
| 10:30am | Monash Warriors def Bendigo Dragons |  30-0 |
| 1:30pm | Geelong Buccaneers def South Eastern Predators |  21-6 |
Sunday 27th July - Brens Oval, Royal Park, Macarthur Road Parkville (Google Map)
| | | |
| --- | --- | --- |
| | Pakenham Silverbacks def Melbourne Uni Lions (forfeit) | 7-0 |
| 1:30pm | Croydon Rangers def Melbourne Uni Royals |  51-0 |
Sunday 27th July - Henry Turner Reserve, Maribyrnong Blvd Footscray (Google Map)
| | | |
| --- | --- | --- |
| 10:30am | Ballarat Falcons draw Gippsland Gladiators |  18-18 |
| 1:30pm | Western Crusaders def Northern Raiders |  36-6 |
Bye: Miners, Barbarians
Week 14 – Saturday 2nd August & Sunday 3rd August
Saturday 2nd August - Tom Flood Sports Centre, Park Road Bendigo (Google Map)
| | | |
| --- | --- | --- |
| 4:00pm | Western Crusaders vs Geelong Buccaneers | |
| 7:00pm | Bendigo Dragons vs Berwick Miners | |
Saturday 2nd August - Maryvale Reserve, Grant Street Morwell (Google Maps)
| | | |
| --- | --- | --- |
| 1:00pm | Gippsland Gladiators vs Pakenham Silverbacks | |
Sunday 3rd August - Monash University Clayton, Wellington Road Clayton (Google Map)
| | | |
| --- | --- | --- |
| 10:30am | Monash Barbarians vs South Eastern Predators | |
| 1:30pm | Monash Warriors vs Croydon Rangers | |
Sunday 3rd August - Brens Oval, Royal Park, Macarthur Road Parkville (Google Map)
| | | |
| --- | --- | --- |
| | Ballarat Falcons def Melbourne Uni Lions (forfeit) | 7-0 |
| 1:30pm | Melbourne Uni Royals vs Northern Raiders | |
Week 15 – Saturday 9th August & Sunday 10th August
Saturday 9th August – Ranger Field, Springfield Avenue Croydon (Google Maps)
| | | |
| --- | --- | --- |
| 10:30am | South Eastern Predators vs Northern Raiders | |
| 1:30pm | Croydon Rangers vs Western Crusaders | |
Saturday 9th August - White Flat Oval, Moyle Street Ballarat (Google Maps)
| | | |
| --- | --- | --- |
| 1:00pm | Ballarat Falcons vs Pakenham Silverbacks | |
Sunday 10th August – Monash University Clayton, Wellington Road Clayton (Google Map)
| | | |
| --- | --- | --- |
| 10:30am | Monash Barbarians vs Geelong Buccaneers | |
| 1:30pm | Monash Warriors vs Berwick Miners | |
Sunday 10th August - Brens Oval, Royal Park, Macarthur Road Parkville (Google Map)
| | | |
| --- | --- | --- |
| 1:30pm | Melbourne Uni Royals vs Bendigo Dragons | |
| | Gippsland Gladiators def Melbourne Uni Lions (forfeit) | 7-0 |