Each season we recognise the individual achievements by our players with the Gridiron Victoria league MVP awards and also select the All Victorian Women's Team.
The awards were announced at the conclusion of the Women's Vic Bowl on Saturday in Croydon.
Congratulations to everyone on a fantastic 2017 season!
2017 League Awards
Most Valuable Player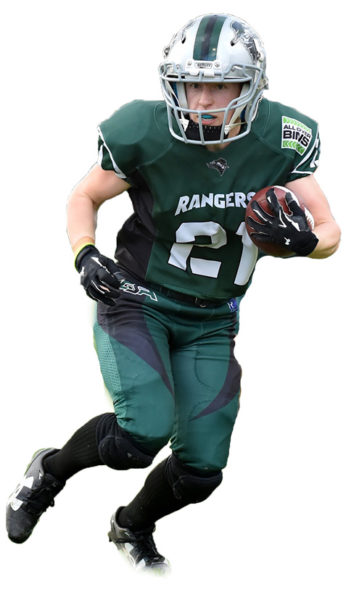 Tanya Russell #21 (Croydon Rangers)
Offensive MVP
Theresa Ealdama #28 (Western Crusaders)
Defensive MVP's
Kylie West #21 (Geelong Buccaneers)
Offensive Line MVP
Nuni Talanoa #62 (MUGC Chargers)
Defensive Line MVP
Silei Poluleuligaga #55 (MUGC Chargers)
Rookie of the Year
Heather Marini #7 (Monash Warriors)
Coach of the Year
Jamie Stafford (Croydon Rangers)
2017 All Victorian Women's Team
Congratulations to the following ladies selected to the 2017 All Victorian Women's Team:
All Victorian Offense
Quarterback: Jacqui Doyle Raiders
Wide Receiver: Judith Fa'auli Warriors
Wide Receiver: Phuong Pham Chargers
Slot Receiver: Sam Kelly Raiders
Right Tackle: Carroll-Mary Hewitt Crusaders
Right Guard: Vanessa Brown Rangers
Centre: Sarah-Jane Mills Rangers
Left Guard: Nat Jones Rangers
Left Tackle: Nuni Talanoa Chargers
Running back: Tanya Russell Rangers
Running back: Tesia Sulu Fuamatu Chargers
Utility: Theresa Ealdama Crusaders
All Victorian Defense
Nose Tackle: Nicole Webster Raiders
Defensive Tackle: Beck Horner Rangers
Defensive End: Jordan Di Mizio Raiders
Defensive End: Kirsten Hayward Crusaders
Linebacker Edwina Liki Crusaders
Linebacker Shirley Esera Crusaders
Linebacker Kylie West Buccaneers
Cornerback: Melissa Kendrick Rangers
Cornerback: Rachael Webster Raiders
Strong Safety: Cat Bouwhuis Rangers
Free Safety: Rosie Trego Chargers
Utility: Clara Yip Rangers
All Victorian Special Teams
Returner: Rachael Cribb Crusaders
Punter: Heather Marini Warriors
Kicker: Sabine Wagner Chargers
Congratulations to you all on a fantastic 2017 season!