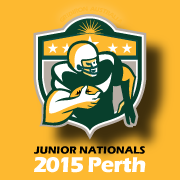 The Victorian junior players selected to train for the 2015 Junior Victorian Eagles campaign to travel to Perth, April 4-11 2015 for the Gridiron Australia Junior National Championships.
Head Coach John Granat and Team Manager Mark Levin have worked with the Head Coaches of each club to define the train on squad as we look to capitalise on our biggest and best Junior season ever here in Victoria with a National Title next year.
More information will be made available soon regarding training. For details about the tournament, be sure to like the event: www.facebook.com/2015JuniorNationals
Congratulations to all the players selected.