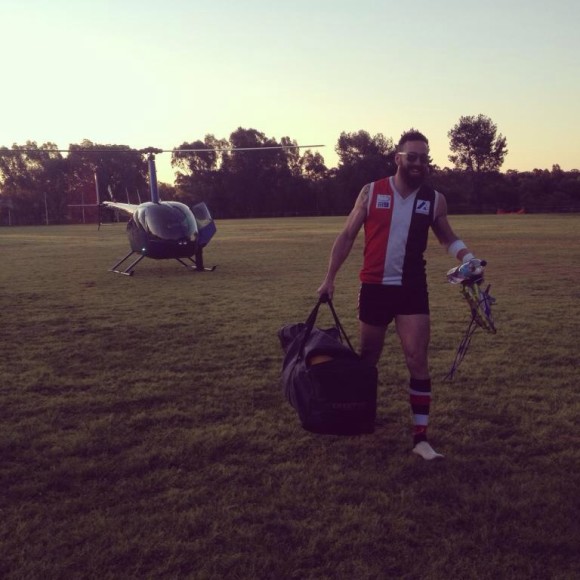 Photo courtesy of Morgan Decker
Monash Warriors star Heath Decker had a conundrum Saturday.
He was scheduled to play Wide Receiver and Quarterback for the Warriors in the 2014 TGI Friday's VIC BOWL on Bendigo Saturday night at 6pm.
However last Thursday night the head coach at his beloved North Ringwood Aussie Rules club called with a problem: they needed him to play fullback Saturday afternoon against the equivalent of Buddy Franklin in their Eastern Football League semi final.
UPDATE:
Some of the media attention the story has been receiving Monday:
www.heraldsun.com.au/leader/east/north-ringwood-full-back-heath-decker-departs-afl-semifinal-to-fly-to-bendigo-by-helicopter-to-win-the-vic-bowl-gridiron-with-monash-warriors/story-fngnvmqa-1227043879042
www.abc.net.au/news/2014-09-01/man-takes-chopper-to-win-two-football-finals-in-one-day/5710198?section=sport
www.efl.org.au/index.php?id=320&tx_ttnews[tt_news]=3761&cHash=77737be35a
www.weeklytimesnow.com.au/sport/chopper-drops-victorias-heath-deck-at-footy-match/story-fnkerdz1-1227043760859