Gippsland Gladiators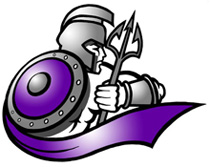 www.gippslandgladiators.com.au
Maryvale Reserve
Grant Street Morwell
In 2014 the Gippsland Gladiators took home the Division 2 Championship held in Bendigo.
2014 Division 2 Champions (v Ballarat Falcons)
2011 Division 2 Runners up (v Northern Raiders)
In October of 2010, two friends got together and decided to form a Club to enter in the Gridiron Victoria League. Word of mouth quickly spread and interest began to grow all over Gippsland.
We now have senior mens players from Bairnsdale to Drouin, Maffra to Leongatha, a Junior Gladiators (15-19), and Senior Womans team (Gippsland Gladiatrix) for the 2015 season, with our home field in Morwell at Maryvale Recreation Reserve in Grant St (old Morwell Miners Rugby Field).
If you would like to join the Gippsland Gladiators in any capacity or for information on becoming a player find us on Facebook, Email us at contactus@gippslandgladiators.com.au, or call Paul Fotheringham on 0428 128 730.