Gippsland Gladiators
www.gippslandgladiators.com.au
Maryvale Reserve
Grant Street Morwell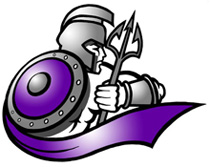 Sponsored by Genesis Fitness Club, Traralgon.
Gippslands' only team in the Gridiron Victoria League.
In early October of 2010, 2 remnants of the old Gippsland Gladiators Flag Football League got together and decided to create a tackle team, to enter into Gridiron Victoria. Word of mouth quickly spread, and the numbers began to grow from all over Gippsland. We now have players from Lakes Entrance, Bairnsdale, Stratford, Maffra, Sale, Traralgon, Morwell, and Leongatha.
We began training 1 day a week in mid October, followed soon by 2 days, and now have 3 practices a week (1 in Traralgon, and 2 in Sale).
Following articles in 3 Gippsland papers, as well as radio and television interviews, we really began to build more momentum and attract new players.
Though our players are lacking in experience, we have a coach from the U.S. who has 18 years playing / coaching experience, and the team is hungry to learn more on a daily basis.
Our numbers are continuing to grow every week, but we are still looking for more players at every position, as well as coaches, first aiders, assistants, and sponsors.