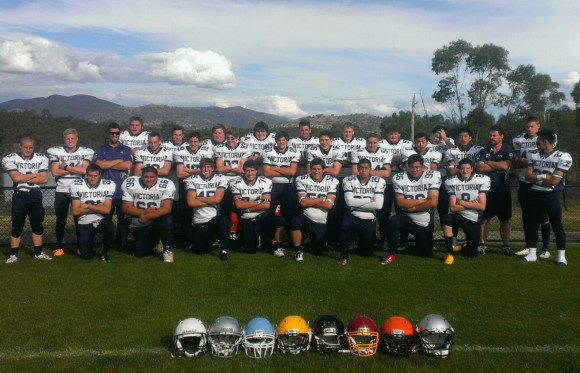 The 2013 Gridiron Australia Junior National Championships will be held at Greenway Stadium, South of Canberra from 16th to 20th April.
TOURNAMENT UPDATE
Game 3: Playoff for 5th
The Eagles have finished the tournament in 5th place, defeating the ACT Monarchs 20-6 in the final game of the Junior Nationals.
Game 2
The Eagles fought valiantly all afternoon but went down to the WA Raiders 31-12 on Thursday. The boys have the day off before contesting the playoff for 5th on Saturday morning.
Game 1
The Victorian Eagles had their first game today and despite an incredible effort by all players, went down to the Queensland Sun Devils 22-18 after leading all day, only to give up a late touchdown to their far north counterparts.
The Junior Eagles now face the Western Australia Raiders
10am Thursday morning 18th April.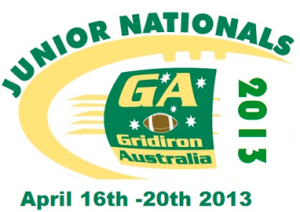 Watch the tournament live!
freezone.iinet.net.au/vod/staging/live-event/16128
Greenway Stadium is located on Soward Way in Greenway, approximately 20kms to the South West of Canberra city center.
The players and coaches will be staying at AIS is located on Leverrier Crescent, about 15 minutes to the north of Canberra.
The Victorian Eagles Junior National Team comprises 28 players and 4 coaching staff lead by Head Coach Layke Rossiello.
Parents and friends are welcome and encouraged to attend the event and support the young Eagles as they compete for another Junior Australian Championship.
Tournament Video
2013 Tournament Fixture
Wednesday 17th April
10am NSW defeat SA 36-24
12:45pm WA defeat ACT 46-14
3:30pm QLD vs VIC
Thursday 18th April
10am- 1st seed vs 6th seed
12:45pm- 2nd seed vs 5th seed
3:30pm- 3rd seed vs 4th seed
Friday 19th April (Tournament bye)
Saturday 20th April
10am- 5th seed vs 6th seed
12:45pm- 3rd seed vs 4th seed
3:30pm- 1st seed vs 2nd seed (National Championship game)
Representing Victoria
| FULL NAME | # | POS. | CLUB |
| --- | --- | --- | --- |
| Andre Jordan | 54 | OL | Northern Raiders |
| Andrei Filipovski | 45 | DL | Geelong Buccaneers |
| Austin Golden | 23 | RB | Croydon Rangers |
| Bailey Kenter | 88 | WR | Monash Warriors |
| Billy Wilson | 19 | WR | Croydon Rangers |
| Caleb Morgan | 81 | WR | Western Crusaders |
| Harry Roberts | 83 | WR | Monash Warriors |
| Jack Watson | 59 | OL | Geelong Buccaneers |
| Jake Campana | 18 | s | Geelong Buccaneers |
| Jake Ennor | 9 | CB | Monash Warriors |
| Jeremy Chenh | 26 | S | Western Crusaders |
| Jesse Peters | 99 | DL | Gippsland Gladiators |
| Jonathan Yeo | 7 | S | Monash Warriors |
| Jordan Roberts | 25 | WR | Berwick Miners |
| Kane Taylor | 57 | DL | Northern Raiders |
| Liam Clark | 20 | CB | Geelong Buccaneers |
| Lochlain West | 8 | WR | Monash Warriors |
| Matt Morgan | 64 | OL | Monash Warriors |
| Matthew Blake | 74 | LB | Berwick Miners |
| Mitchell Malt | 4 | WR | Croydon Rangers |
| Nathan Pincus | 16 | LB | Croydon Rangers |
| Josh Petracca | 10 | WR | Croydon Rangers |
| Phillip Chen | 21 | CB | Monash Warriors |
| Richard Truong | 29 | CB | Monash Warriors |
| Tom Bean | 47 | QB | Geelong Buccaneers |
| Toree Masiutama | 66 | OL | Western Crusaders |
| Voung (Nelson) Lai | 96 | S | Western Crusaders |
| William Blake | 56 | LB | Berwick Miners |