Touchdown!
northcote-leader.whereilive.com.au/sport/story/touchdown-2/
A GROWING distaste for Australian rules football has formed the basis for the northern suburbs' newest sporting club.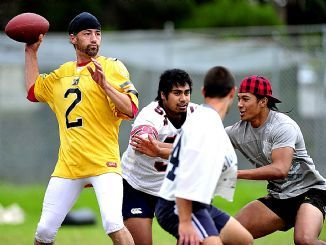 The Northern Raiders, the brainchild of Dale Cole, are one of three new clubs – Gippsland Gladiators and Ballarat Pioneers – joining Gridiron Victoria for the 2011 season.
The new clubs will join the Bay City Buccaneers, Berwick Miners, Croydon Rangers, Monash Warriors and the Western Crusaders in competition.
Cole, a lifelong Oakland Raiders fan, said the Northern Raiders were borne from his growing disengagement with "mainstream" sports in Australia.
"The AFL doesn't have the same appeal as what it used to have," Cole said.
"There is more of a focus on player behaviour rather than on ability. I think that is frustrating a lot of people.
"I got onto the Gridiron Victoria website and was having a bit of a look and my mates dared me to do it, and I like to go and tackle different things, so I thought why not?"
The Raiders first training session attracted three people but has since grown to more than 50-plus, 30 of who have committed to lining up for the new outfit.
Cole said interest in the club had been overwhelming, with some players coming down from the New South Wales border to join.
The Raiders have also appointed a head coach, Warren Gephart, who is originally from Pittsburgh.
Cole said surprisingly club members are not just a collection of ex-patriot Americans looking to play their native sport.
"It is really multicultural," he said. "There are some Americans, but they are mainly in the coaching panel."
He said the group was enthusiastic to try their hand at the new sport. "We have got a couple of Islanders, guys from Samoa, and they are really fired up about it," he said. "They are big boys, and they just want to get out there and hit people."
Cole said gauging interest after competition begins would be interesting. "That will be the next big challenge," he said.
"When the guys start to get hit and possibly injured it will be interesting to see if they keep coming back."
The Raiders logo itself is a homage to Cole's love of the Oakland Raiders.
It is silver and black, featuring a skull with football stitching across the forehead.
The Raiders are temporarily based at Greensborough Secondary College, but could have a new home in the future.
The club has an application with the Darebin Council to find a permanent location which will be determined by the end of the month.
For more information contact Cole via email nraidersgc@hotmail.com or call 0416 746 694.