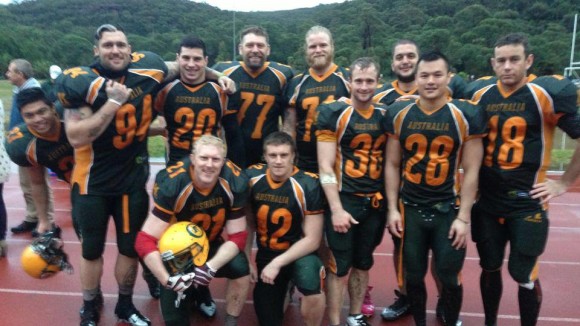 The 2013 Outback National Australia Gridiron team roster has been announced.
Congratulations to the following 12 Victorian players selected to represent their country!
Mark Doyle LB (Rangers)

Chris Tuohy WR (Royals)
Ben Stokes DB (Warriors)
Luke Jackson RB (Warriors)
Andrew Yeung DB (Crusaders)
Alex Moloney WR (Warriors)
Tyson Garnham WR (Crusaders)
Tyson Burgess DB (Rangers)
Don Veale OL (Gladiators)
Josh Vellin OL (Warriors)
John Tostevin OL (Warriors)
Rhyss Keane TE/FB (Warriors)
Also, Esira Ramasira from the Berwick Miners who has been selected to the Polynesian Warriors squad. VGOA referee Graham Wilson has been selected as part of the officiating crew.
The Outback team takes on the Polynesia All Stars on Saturday 29th June in Sydney.
Congratulations to all the Victorians selected!