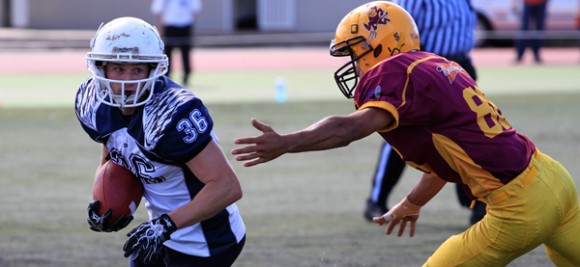 Victoria will be sending a squad to the 2013 Junior National Championships in Canberra April 16-20 2013.
The 2013 Junior State Team coaching staff will be holding a training session on Saturday 8th December at The Cove, Hendy Street Corio (Buccaneers Ground) from 1pm. You can still make the team if you do not attend this session!
The squad will be training every weekend from mid January up until the tournament with training sessions in both Geelong and also at the Miners ground in Endeavour Hills.
If you want to play for Victoria, you should attend this session. You need to have played in the 2012 Junior Gridiron Victoria season to be eligible for selection. Please bring shoulders, helmet, lowers – everything as you would a normal game.
If you cannot make this session, training will commence in mid January and information will be posted here. Follow the Facebook Event here.
Tournament Participation
Players wishing to participate in the tournament are required to be between 16 and 19 years of age as per the requirements set by the Gridiron Australia Board of Directors.
Players must be born on or after 1/1/1994 and on or before 1/4/1996.
Squad sizes are limited to 35 members per team (including team personnel and coaches). Games will be played under a 9 man format and under NCAA rules.