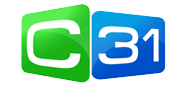 We were the first league to advertise on television, now we are going to broadcast a monthly show as well!
Gridiron Victoria is partnering with community station Channel 31 to beam our sport into homes across the state and we need your help.
The goal is to produce a half hour spot for 9 months of the year, showcasing each of our clubs, covering the 2012 senior and junior seasons as well as the inaugural Australian Gridiron League tournament in our very first show. We would like ideas on:
Format – Panel, like Before the Game or just a couple of people like Blokesworld
Segments – What should we cover? Plays of the week, officials, rules, funny stories etc
Anything else?
We are looking for anyone with post-production, multimedia, editing, audio, camera operating experience to volunteer their time to help the league. If you're interested, please email sam.weller@gridironvictoria.com.au or post your comments below.