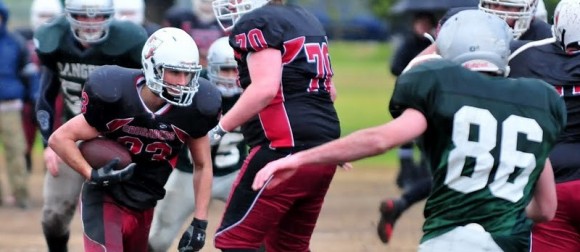 © Barend van den Hoek
Week 10 of the 2011 Gridiron Victoria season and another round of cross-divisional games (interim scores).
In Footscray, the Monash Warriors faced the Gippsland Gladiators in the morning and the defending champions registered a big 72-2 win over the new team.
In the afternoon the Western Crusaders hosted the Croydon Rangers2, the home team getting the win 48-8.
Down in Berwick, the early game featured the Monash Barbarians and the Bay City Buccaneers, with the Buccs registering the highest score of the year with an 84-0 victory.
Later in the day the hotly anticipated clash between the Berwick Miners (currently last in div 1) and the Northern Raiders (currently atop div 2) saw the Miners get the win 26-0.