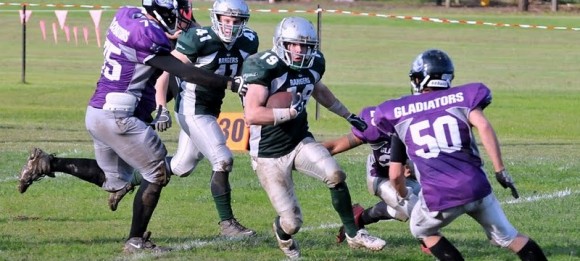 © Barend van den Hoek
Season 2011 got even more interesting in week 6 as we finally saw cross-divisional games.
On Saturday, the Bay City Buccaneers hosted the Melbourne Uni Royals at home in Corio with the Buccaneers rolling to a big win 70-0. Meanwhile, on the other side of Victoria the Gippsland Gladiators hosted the Croydon Rangers in Morewell, with the division one Rangers getting the win 57-0.
On Sunday, we headed back out west to Footscray where the Northern Raiders hosted the Monash Warriors with the reigning champion Warriors winning 44-6.
In the afternoon, the Western Crusaders hosted the Monash Barbarians and won 60-0.