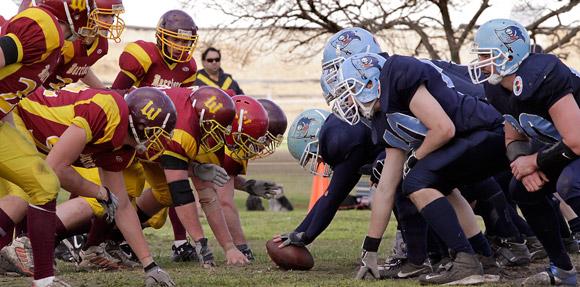 Another season of Gridiron Victoria is upon us!
The new season kicked off Saturday where division two runners-up the Gippsland Gladiators hosted the Monash Barbarians in Morwell. The Barbarians bolted out of the gates and lead at half time 14-8. The home side got their act together and lead 21-14 before the Barbarians worked it deep into the red zone and had a chance to score a TD but ran out of time. Gladiators win 21-14.
On Sunday the  Berwick Miners hosted the Western Crusaders in Endeavour Hills and the home side drew first blood with a tipped pass caught for a touchdown. The Crusaders scored two touchdowns to lead 15-7 at half time and the scores never changed.
In Parkville at one of the league's new facilities, the reigning Vic Bowl champion Bay City Buccaneers faced the Monash Warriors but it was the Warriors who established themselves early and lead 22-0 at half time. A touchdown each meant little in the 2nd half as the Warriors won 28-6.
Later the home side Melbourne Uni Royals hosted the reigning division two champion Northern Raiders and it was the Raiders who lead for much of the day before a spirited  rally that saw the Royals win 35-30.