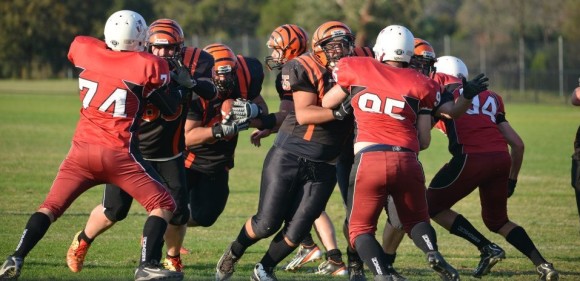 Week 2 of the senior season rolls around and all games are played on Saturday so we can celebrate Mothers Day on Sunday.
Results from Week 2
Melbourne Uni Royals defeat Bendigo Dragons 28-0
Western Crusaders defeat Berwick Miners 24-18
Gippsland Gladiators defeat Ballarat Falcons 20-0
Geelong Buccaneers defeat Croydon Rangers 34-6
Down at Endeavour Hills we kick things off with the Melbourne Uni Royals and Bendigo Dragons at 10:30am. Both teams were very competitive in their tough losses week one and will be looking to rebound. Could be the match of the round.
At 1:30pm the home town Berwick Miners are also looking to bounce back from a loss last week as they take on the Western Crusaders who play their first game in 2013.
Little further north in Croydon the Ballarat Falcons play their innaugural GV match when they take on the Gippsland Gladiators also in their first game of the year.
At 1:30pm the Croydon Rangers host the Geelong Buccaneers in what is always an incredibly close match, impossible to split over the past few years.
Good luck to all teams!