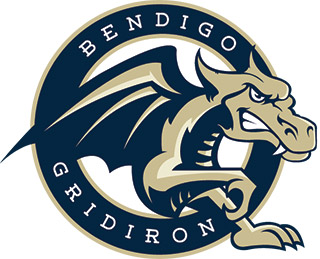 Having a gridiron team in Bendigo was first thought of in the early 90s, when Gridiron Victoria was going through its first explosive growth stage. An attempt was made to see if Bendigo had enough interest in starting a team, and joining as an exhibition team. While the team did play two games, one in 1992 and another in 1993, a full team was never established to join the league.
Check out the Dragons Facebook page, for all up to date information.
Twenty years later, the idea was again raised, this time through social media. Through the efforts of a few, a foundation group was formed, and they started to train together. In 2012, Gridiron Victoria accepted the Bendigo Dragons as a club which would have the opportunity to compete in the 2013 season.
2013 saw the entry of the Dragons into Division 2 of the Gridiron Victorian league. Through much planning, and a determination of many to play, the club grew to a point where it was able to register 68 players in its first season. While a number of players found the game to be much more physical than they planned, the retention rate throughout the season was very high.
While the Dragons did not win most of their games, they were able to make the Division 2 finals, losing to the eventual champions. As a whole, the club was very pleased with what they were able to achieve in their first year. Developing a team, that only had one player with any prior experience in Gridiron Victoria, was always going to be a monumental task.
At the Gridiron Victoria awards night, the club was fortunate to win three awards, Division 2 Coach of the Year, Division 2 Rookie of the Year and Gridiron Victoria Club of the Year.
2014 will see the Bendigo Dragons Gridiron Club compete in Division 1 of Gridiron Victoria, becoming the first team to ever get promoted from Division 2 to Division 1. With the new challenges of the higher standard of football, the Dragons continue to not only be a team in the league, but make the moves required to one day win the Vic Bowl.