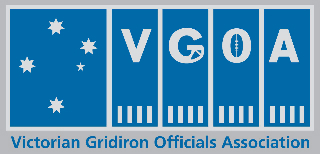 sites.google.com/site/australiangridironofficials
Secretary: Graham Wilson  grah.wilson@gmail.com
Training Coordinator: Tony Martin tony-martin@telstra.com or 0419 383 424
New officials / members always welcome
Interested in becoming an official? Check out our Frequently Asked Questions!
History of the VGOA
Prior to 1985, games in the Victorian Gridiron Football league had been officiated by players and coaches.
During 1985 David Sinclair and Paul Mercer, fans of the game but with little knowledge of the rules other than what they had learnt from the NFL coverage, started officiating.
With the advent of the Australia Bowl at the old VFL Park in Waverley in December 1985 and the arrival of Mark Weber, a Canadian who had been officiating in Adelaide, the three decided to form an officials association and recruit officials for the 1986 VGFL season. A constitution was adopted and the VGOA was incorporated with Mark Weber as its first President, David Sinclair as Treasurer and Paul Mercer as Secretary.
A total of 12 people responded to a newspaper advertisement and attended training sessions held at Como Park in Prahran.
The first uniform consisted of white baseball pants, plain white or black adjustable caps and ice hockey officials' shirts imported from Canada. Those early games were worked by 5-man crews with very basic rules knowledge and even less idea of officiating mechanics or philosophy, virtually none of the officials having previously played the game. Consequently many penalties were flagged and games often ran for 3 hours or more.
Since those formative years the standard of officiating, along with the level of play and the conduct of players and coaches, has improved considerably. With contacts both interstate and overseas, the existence of a national officiating body and information gained from visiting officials, the VGOA has a core of officials with many years' experience. Three of the fifteen inaugural members are still officiating.
In 2010 VGOA celebrated its' 25th year of officiating with a dinner which was attended by many past members.
Over the years VGOA officials have officiated in every Senior and Junior National Championships as well as many other interstate games and events, including the 1988 Kookaburras versus Great Britain "Test match" at Tweed Heads and the 1989 Grand Prix Challenge tourney in Adelaide.
Several officials also have overseas experience, having worked games and tournaments in recent years in the USA, UK, Germany and New Zealand. VGOA is proud of the fact that is has provided all three officials to IFAF World Cup tournaments – Tony Martin was Australia's first representative at the 2009 Junior World Cup in Canton Ohio, Paul Mercer was appointed to the 2010 Senior World Cup in Austria and David Sinclair was appointed to the 2012 Junior World Cup in Austin, Texas.
From these contacts and experiences has come a more practical and commonsense approach to the enforcement of the rules with the emphasis on "preventative" rather than "punitive" officiating techniques.
The motto of the VGOA "Officiating is a team effort" is based upon the need for each official to perform to the best of his or her ability to ensure that the game is played safely and within the spirit as well as the letter of the law, and to see that no player or team gains an advantage by an unfair act.
The contribution of VGOA officials to the local competition has been recognised since 2004 by the awarding of the "Official of the Year" trophy and Paul Mercer (2005), Bryan Currie (2006) and Tony Martin (2012) have also been recognised with Life Membership of Gridiron Victoria.
At the national level VGOA officials have always made a contribution. Several VGOA officials have played leadership roles in the Australian Gridiron Officials Association. Two officials, Bryan Currie (in 2007) and Paul Mercer (2010) have been inducted into the Officiating Hall of Fame.
Since our first year we have presented a "Best and Fairest" trophy at the end of each Gridiron Victoria senior season. This trophy was donated by our inaugural president, Mark Weber.
As part of our role to promote and foster good relations with clubs, coaches and players a "Best Conducted Club" award was introduced in 2007 to recognise clubs who excel in their organisation and support for both the game and the officials.