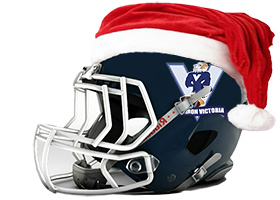 Wishing everyone a very safe and happy Christmas, enjoy the holiday season and best wishes for a prosperous new year.
2013 was another great year for Gridiron Victoria!
We had another incredible senior competition and an historic Monash Gridiron double with the division 2 champion in the Monash Barbarians and yet another Warriors Vic Bowl win over the Geelong Buccaneers at Moorabbin Oval.
We celebrated women's sport with our inaugural Women's season with three teams contesting a fantastic season culminating in the Western Foxes winning the first ever Women's Vic Bowl.
Finally, a great juniors campaign with six teams battling it out as the Western Crusaders dominated all year long to win the Junior Vic Bowl.
Thank you to everyone who played, coached, officiated, provided sideline support and most importantly attended and supported Gridiron Victoria this past year.
See you in 2014 for our 30th birthday and what promises to be our biggest and best season yet.