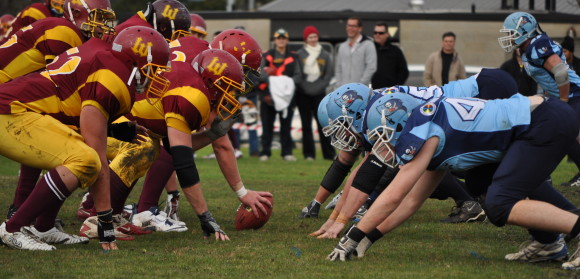 The 2013 Senior Gridiron Victoria season will kick off May 4th and 5th in a 15 week season (12 games / 3 byes) with the 2013 TGI Friday's Vic Bowl on the weekend of August 24/25. The 2013 Gridiron Victoria Senior season comprises two divisions:
Division One
Monash Warriors, Geelong Buccaneers, Western Crusaders, Croydon Rangers, Berwick Miners
Division Two
Melbourne Uni Royals, Monash Barbarians, Northern Raiders, Gippsland Gladiators, Bendigo Dragons, Ballarat Falcons
The competition will see each team play twice within their division and a total of four cross-divisional games, all for points as each division is contesting for a division title.
If you are interested in becoming an official, check out the
Victorian Gridiron Officials Association (VGOA).
Week 1 – Saturday 4th & Sunday 5th May
Saturday 4th May - The Cove, 20 Hendy Street, Corio (Enter off Bogong) (Buccaneers) Map
| | | |
| --- | --- | --- |
| 10:30am | Geelong Buccaneers defeat Berwick Miners | 26-6 |
| 1:30pm | Northern Raiders defeat Bendigo Dragons |  34-0 |
Sunday 5th May – Brens Oval Royal Park, Macarthur Road Parkville (Royals) Map
| | | |
| --- | --- | --- |
| 10:30am | Monash Warriors defeat Croydon Rangers | 60-21 |
| 1:30pm | Monash Barbarians defeat Melbourne Uni Royals |  30-8 |
Bye: Crusaders, Falcons, Gladiators
Week 2 – Saturday 11th May
Saturday 11th May – Ranger Field, Springfield Avenue, Croydon (Rangers) Map
| | | |
| --- | --- | --- |
| 10:30am | Gippsland Gladiators defeat Ballarat Falcons | 20-0 |
| 1:30pm | Geelong Buccaneers defeat Croydon Rangers |  34-6 |
Saturday 11th May – Sydney Pargeter Reserve, Power Road Endeavour Hills (Miners) Map
| | | |
| --- | --- | --- |
| 10:30am | Melbourne Uni Royals defeat Bendigo Dragons | 28-0 |
| 1:30pm | Western Crusaders defeat Berwick Miners |  24-18 |
Bye: Warriors, Raiders, Barbarians
Week 3 – Saturday 18th & Sunday 19th May
Saturday 18th May – LE Cotchin Reserve, Massey Avenue Reservoir (Raiders) Map
| | | |
| --- | --- | --- |
| 10:30am | Western Crusaders defeat Croydon Rangers | 19-12 |
| 1:30pm | Northern Raiders defeat Gippsland Gladiators |  10-0 |
Sunday 19th May – Monash University, Wellington Road Clayton (Warriors) Map
| | | |
| --- | --- | --- |
| 10:30am | Monash Barbarians vs Ballarat Falcons | |
| 1:30pm | Monash Warriors vs Geelong Buccaneers | |
Bye: Miners, Dragons, Royals
Week 4 – Saturday 25th & Sunday 26th May
Saturday 25th May – Sydney Pargeter Reserve, Power Road Endeavour Hills (Miners) Map
RIVALRY BOWL
| | | |
| --- | --- | --- |
| 11:30am | Western Crusaders vs Monash Warriors | |
| 3:30pm | Berwick Miners vs Croydon Rangers | |
Sunday 26th May – LE Cotchin Reserve, Massey Avenue Reservoir (Raiders) Map
| | | |
| --- | --- | --- |
| 10:30am | Northern Raiders vs Monash Barbarians | |
| 1:30pm | Ballarat Falcons vs Melbourne Uni Royals | |
Sunday 26th May – Maryvale Reserve, Grant Street Morwell (Gladiators) Map
| | | |
| --- | --- | --- |
| 1:30pm | Gippsland Gladiators vs Bendigo Dragons | |
Bye: Buccaneers
Week 5 – Saturday 1st & Sunday 2nd June
Saturday 1st June – Tom Flood Sports Centre, Park Road Bendigo (Dragons) Map
| | | |
| --- | --- | --- |
| 4:00pm | Western Crusaders vs Geelong Buccaneers | |
| 7:00pm | Bendigo Dragons vs Ballarat Falcons | |
Sunday 2nd June – Maryvale Reserve, Grant Street Morwell (Gladiators) Map
| | | |
| --- | --- | --- |
| 10:30am | Gippsland Gladiators vs Monash Barbarians | |
| 1:30pm | Monash Warriors vs Berwick Miners | |
Sunday 2nd June – Brens Oval Royal Park, Macarthur Road Parkville (Royals) Map
| | | |
| --- | --- | --- |
| 1:30pm | Melbourne Uni Royals vs Northern Raiders | |
Bye: Rangers
Week 6 – Saturday 8th & Sunday 9th June
Saturday 8th June – Maryvale Reserve, Grant Street Morwell (Gladiators) Map
| | | |
| --- | --- | --- |
| 1:30pm | Gippsland Gladiators vs Croydon Rangers | |
Sunday 9th June – Henry Turner Reserve, Maribyrnong Blvd Footscray (Crusaders) Map
| | | |
| --- | --- | --- |
| 10:30am | Monash Warriors vs Northern Raiders | |
| 1:30pm | Western Crusaders vs Monash Barbarians | |
Sunday 9th June - Brens Oval Royal Park, Macarthur Road Parkville (Royals) Map
CHARITY BOWL
| | | |
| --- | --- | --- |
| 1:30pm | Melbourne Uni Royals vs Geelong Buccaneers | |
Bye: Miners, Dragons, Falcons
Week 7 – Saturday 15th June
Saturday 15th June – University of Ballarat. University Drive, Mt Helen (Falcons) Map
| | | |
| --- | --- | --- |
| 10:30am | Geelong Buccaneers vs Bendigo Dragons | |
| 1:30pm | Ballarat Falcons vs Berwick Miners | |
Saturday 15th June – Ranger Field, Springfield Avenue, Croydon (Rangers) Map
| | | |
| --- | --- | --- |
| 10:30am | Gippsland Gladiators vs Monash Warriors | |
| 1:30pm | Croydon Rangers vs Monash Barbarians | |
Bye: Crusaders, Royals, Raiders
Week 8 – Saturday 22nd & Sunday 23rd June
Saturday 22nd June – Tom Flood Sports Centre, Park Road Bendigo (Dragons) Map
| | | |
| --- | --- | --- |
| 4:00pm | Monash Barbarians vs Gippsland Gladiators | |
| 7:00pm | Bendigo Dragons vs Monash Warriors | |
Sunday 23rd June – University of Ballarat. University Drive, Mt Helen (Falcons) Map
| | | |
| --- | --- | --- |
| 10:30am | Melbourne Uni Royals vs Croydon Rangers | |
| 1:30pm | Ballarat Falcons vs Western Crusaders | |
Sunday 23rd June – LE Cotchin Reserve, Massey Avenue Reservoir (Raiders) Map
| | | |
| --- | --- | --- |
| 1:30pm | Northern Raiders vs Berwick Miners | |
Bye: Buccaneers
Week 9 – Saturday 29th & Sunday 30th June
Saturday 29th June – The Cove, 20 Hendy Street, Corio (Enter off Bogong) (Buccaneers) Map
| | | |
| --- | --- | --- |
| 10:30am | Geelong Buccaneers vs Monash Barbarians | |
| 1:30pm | Ballarat Falcons vs Northern Raiders | |
Saturday 29th June – Maryvale Reserve, Grant Street Morwell (Gladiators) Map
| | | |
| --- | --- | --- |
| 1:30pm | Gippsland Gladiators vs Western Crusaders | |
Sunday 30th June – Brens Oval Royal Park, Macarthur Road Parkville (Royals) Map
| | | |
| --- | --- | --- |
| 10:30am | Croydon Rangers vs Bendigo Dragons | |
| 1:30pm | Melbourne Uni Royals vs Berwick Miners | |
Bye: Warriors
Week 10 – Saturday 6th & Sunday 7th July
Saturday 6th July – LE Cotchin Reserve, Massey Avenue Reservoir (Raiders) Map
| | | |
| --- | --- | --- |
| 10:30am | Monash Warriors vs Ballarat Falcons | |
| 1:30pm | Northern Raiders vs Geelong Buccaneers | |
Sunday 7th July – Sydney Pargeter Reserve, Power Road Endeavour Hills (Miners) Map
| | | |
| --- | --- | --- |
| 10:30am | Western Crusaders vs Melbourne Uni Royals | |
| 1:30pm | Berwick Miners vs Gippsland Gladiators | |
Bye: Rangers, Barbarians, Dragons
Week 11 – Saturday 13th & Sunday 14th July
Saturday 13th July – Ranger Field, Springfield Avenue, Croydon (Rangers) Map
| | | |
| --- | --- | --- |
| 10:30am | Melbourne Uni Royals vs Monash Barbarians | |
| 1:30pm | Croydon Rangers vs Monash Warriors | |
Sunday 14th July – LE Cotchin Reserve, Massey Avenue Reservoir (Raiders) Map
| | | |
| --- | --- | --- |
| 10:30am | Northern Raiders vs Bendigo Dragons | |
| 1:30pm | Berwick Miners vs Geelong Buccaneers | |
Bye: Crusaders, Falcons, Gladiators
Week 12 – Saturday 20th & Sunday 21st July
Saturday 20th July – The Cove, 20 Hendy Street, Corio (Enter off Bogong) (Buccaneers) Map
| | | |
| --- | --- | --- |
| 10:30am | Geelong Buccaneers vs Croydon Rangers | |
| 1:30pm | Ballarat Falcons vs Monash Barbarians | |
Saturday 20th July – LE Cotchin Reserve, Massey Avenue Reservoir (Raiders) Map
| | | |
| --- | --- | --- |
| 1:30pm | Northern Raiders vs Gippsland Gladiators | |
Sunday 21st July – Henry Turner Reserve, Maribyrnong Blvd Footscray (Crusaders) Map
| | | |
| --- | --- | --- |
| 10:30am | Melbourne Uni Royals vs Bendigo Dragons | |
| 1:30pm | Western Crusaders vs Monash Warriors | |
Bye: Miners
Week 13 – Saturday 27th & Sunday 28th July
Saturday 27th July – Ranger Field, Springfield Avenue, Croydon (Rangers) Map
| | | |
| --- | --- | --- |
| 10:30am | Croydon Rangers vs Western Crusaders | |
| 1:30pm | Bendigo Dragons vs Gippsland Gladiators | |
Saturday 27th July – University of Ballarat. University Drive, Mt Helen (Falcons) Map
| | | |
| --- | --- | --- |
| 1:30pm | Ballarat Falcons vs Melbourne Uni Royals | |
Sunday 28th July – Monash University, Wellington Road Clayton (Warriors) Map
| | | |
| --- | --- | --- |
| 10:30am | Monash Barbarians vs Northern Raiders | |
| 1:30pm | Monash Warriors vs Berwick Miners | |
Bye: Buccaneers
Week 14 – Saturday 3rd August & Sunday 4th August
Saturday 3rd August – The Cove, 20 Hendy Street, Corio (Enter off Bogong) (Buccaneers) Map
| | | |
| --- | --- | --- |
| 10:30am | Geelong Buccaneers vs Monash Warriors | |
| 1:30pm | Bendigo Dragons vs Ballarat Falcons | |
Sunday 4th August – Brens Oval Royal Park, Macarthur Road Parkville (Royals) Map
| | | |
| --- | --- | --- |
| 10:30am | Melbourne Uni Royals vs Gippsland Gladiators | |
| 1:30pm | Western Crusaders vs Berwick Miners | |
Bye: Rangers, Raiders, Barbarians
Week 15 – Sunday 11th August
Sunday 11th August – Henry Turner Reserve, Maribyrnong Blvd Footscray (Crusaders) Map
| | | |
| --- | --- | --- |
| 10:30am | Northern Raiders vs Ballarat Falcons | |
| 1:30pm | Western Crusaders vs Geelong Buccaneers | |
Sunday 11th August – Sydney Pargeter Reserve, Power Road Endeavour Hills (Miners) Map
| | | |
| --- | --- | --- |
| 10:30am | Bendigo Dragons vs Monash Barbarians | |
| 1:30pm | Berwick Miners vs Croydon Rangers | |
Bye: Warriors, Royals, Gladiators
Preliminary Finals – Saturday 17th & Sunday 18th August
2013 Gridiron Victoria Senior VIC BOWL -Saturday 24th or Sunday 25th August (to be confirmed)
Tie-break Steps
Fewest forfeits
Best head-to-head results between tied teams
Best net points differential between tied teams
Best head-to-head record in games between tied teams and highest ranked non tied teams
Best net points differential in games between tied teams and highest ranked non tied teams
Repeat steps 4 and 5 for all teams in the division.
Fewest Ejections
Fewest Unsportsmanlike Conduct Fouls
Fewest Personal Fouls
Coin toss