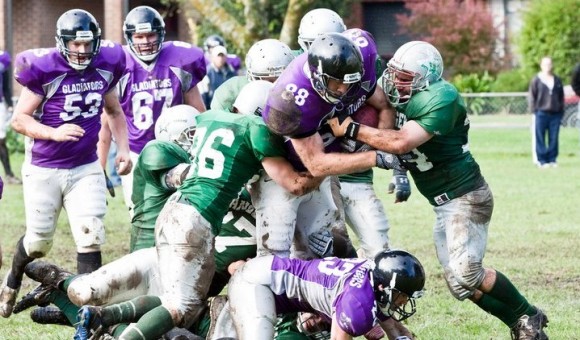 © Kelly Rose Photography
Week two of Gridiron Victoria began on Saturday at Ranger Field with the division one showdown between arch nemesis Monash Warriors and the Croydon Rangers. In difficult conditions the Rangers scored early on a deep pass then stuck to the running game to register a 28-0 victory.
Following on in the afternoon saw the inaugural game for one of our newest clubs, the Gippsland Gladiators up against the Croydon Ranger 2's, also in their first game for 2011 in a division two matchup. The Rangers scored on the first play from scrimmage and held a strong lead at half time. The Gladiators, to their credit bounced back hard in the second half with two touchdowns to add some respectability to the scoreline of 28-12.
On Sunday the attention turned to Berwick and in the morning another division two game between the Northern Raiders and the Melbourne Uni Royals. The match was an arm wrestle all day until the Raiders edged out the Royals with some big plays down the stretch, finally securing the win 16-0.
Finally, the Berwick Miners hit the park for the first time in 2011, hosting the Western Crusaders. In another tough, tight struggle, the Crusaders were able to edge out the Miners and power ahead, eventually winning 34-7 and taking top spot in the standings.